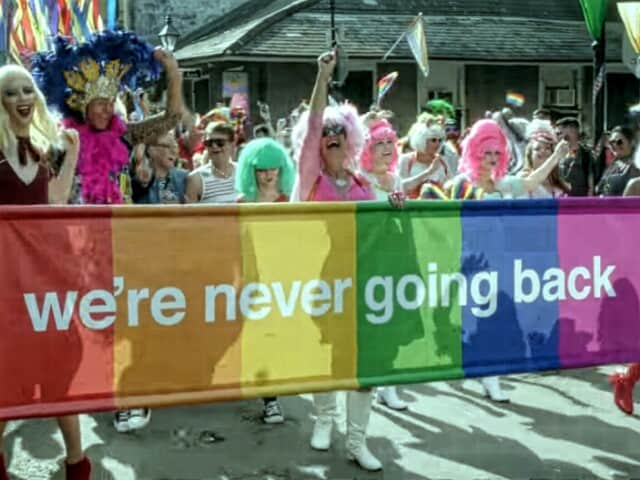 New Orleans Tourism launched its "Always Open" campaign in tandem with its marquee Mardi Gras celebration this week to welcome the LGBTQ community in particular to the city.
Proclaiming NOLA a home for diversity and equality, the city held a first-ever "Reverse Parade" on February 12 in order to proclaim its commitment to the hard-won rights LGBTQ activists have achieved, especially in the face of potential rollbacks under Trump:
Through word of mouth, some four hundred citizens gathered and volunteered their time to create a message of diversity and equality. Donning full make-up, Mardi Gras garb, beads, or just plain clothes, the New Orleans community and its supporters marched backwards in a symbolic gesture shedding colorful clothing and masks along the way. Everything stopped, quiet ensued, then a flag appeared stating "We Are Never Going Back." Music filled the streets as participants marched forward in celebration.
Volunteers offered their enthusiasm for the event and the city in a behind-the-scenes video. "It's a great place to celebrate—you don't have to be afraid of who you are," said one, while another proclaimed the Big Easy an "[LGBTQ] hub since the time of Tennessee Williams."
New Orleans Tourism, in conjunction with agency 360i, released a highlights video of the event, directed by Trent Jaklitsch and accompanied by the following message:
After years of positive advancement for LGBTQ rights in this country, the New Orleans tourism community wants to send a message of hospitality to all visitors. We will always be welcoming and continue to move forward.