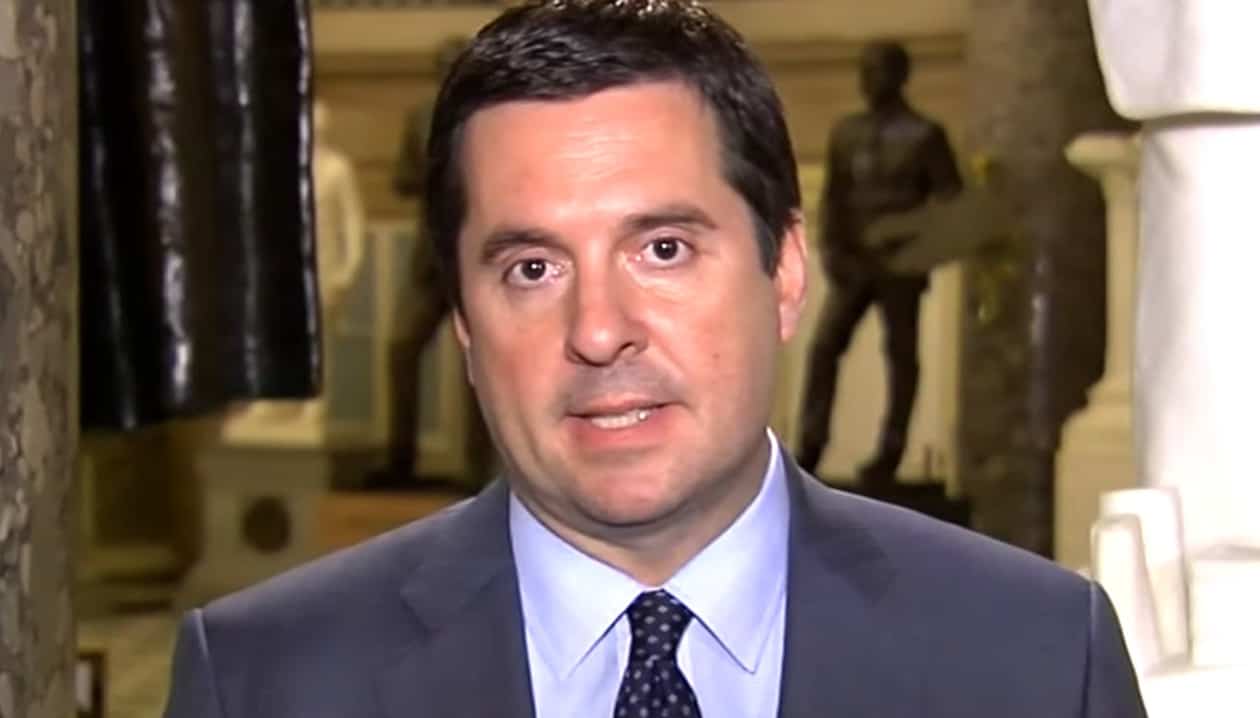 Ethically compromised House Intel Committee Chairman Devin Nunes made the astonishing statement on Wednesday that Democrats aren't serious about the investigation into the Trump campaign's links to Russian meddling in the election.
"We're beginning to figure out who's actually serious about the investigation because it appears like the Democrats aren't really serious about this investigation," he told the media, as reported by NBC News.
Nunes has been accused of engaging in a "cover-up" with regard to the case.
Nunes said yesterday that he would not divulge, even to members of his committee, the source of the intelligence reports that indicated Trump had been surveilled:
"Asked by an ABC News reporter whether he would inform the other committee members about who gave him the reports he viewed on the White House grounds last week, Nunes said: 'We will never reveal those sources and methods.'"
The HuffPost sums up why Nunes story about his trip to the White House this week is just not credible:
When asked how exactly Nunes got into the White House last week, Spicer told reporters on Wednesday that it was "a question for him, not for us."
Nunes, who has otherwise been tight-lipped about his source, told Bloomberg's Eli Lake on Monday that his source was an intelligence official, not a White House staffer. Even if that is true, it would have had to have been an intelligence official with cleared White House access (potentially an official on temporary detail with the National Security Council), or Nunes and his source would have had to have been let in by someone else from the White House.
Perhaps Nunes' most bizarre move thus far has been his refusal to disclose his source's identity to [Rep. Adam] Schiff, his Democratic counterpart, who is regularly briefed on information in his role as the ranking member of the intelligence committee.
Even some of Nunes' Republican colleagues are puzzled by his handling of the situation.
"The chairman and ranking member not talking with each other ― that's bizarre on such an important issue," one GOP lawmaker said Wednesday. "I just can't imagine myself and my counterpart, on something this important to the country, having zero communication."
Nunes' behavior, the Republican lawmaker continued, is making it appear as though he is "somebody who's in essence working for the administration."
In a frustrated  tweet on Wednesday morning, Rep. Adam Schiff asked "what's the holdup" in having former acting attorney general Sally Yates testify before the committee:
Sally Yates is willing to testify, WH says they want her to testify, public wants to hear from her, Brennan and Clapper…what's the holdup?

— Adam Schiff (@RepAdamSchiff) March 29, 2017
Nunes canceled all hearings and meetings of the committee this week. White House Press Secretary Sean Spicer said yesterday that the White House would permit it.
Said Spicer:
"I hope she testifies. I look forward to it. … If they choose to move forward, great. We have no problem with her testifying, plain and simple."
Sean Spicer on Wednesday said he saw "nothing problematic" in Nunes continuing to lead the investigation:
Amid calls for recusal, @PressSec says there is "nothing that I see that is problematic" in Devin Nunes conducting Russia probe. pic.twitter.com/wyBvlzOYRj

— This Week (@ThisWeekABC) March 29, 2017
But Stephen Colbert pointed out last night exactly why it is more than problematic: