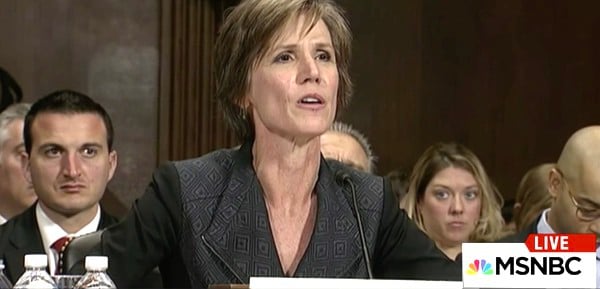 Former acting attorney general Sally Yates was blocked by the White House from testifying in the investigation into links between the Trump campaign and Russia, according to a report in the Washington Post:
According to letters The Post reviewed, the Justice Department notified Yates earlier this month that the administration considers a great deal of her possible testimony to be barred from discussion in a congressional hearing because the topics are covered by the presidential communication privilege.
If you recall, Yates was fired in January after she ordered DOJ lawyers not to defend Trump's Muslim travel ban.
Yates and another witness at the planned hearing, former CIA director John Brennan, had made clear to government officials by Thursday that their testimony to the committee probably would contradict some statements that White House officials had made, according to a person familiar with the matter who spoke on the condition of anonymity. The following day, when Yates's lawyer sent a letter to the White House indicating that she still wanted to testify, the hearing was canceled.
The White House denied it blocked Yates:
The White House decried the Post's report as "entirely false" in a statement.
"The White House has taken no action to prevent Sally Yates from testifying and the Department of Justice specifically told her that it would not stop her and to suggest otherwise is completely irresponsible," the White House added.
It's unclear whether this means Yates's testimony will be rescheduled. She clearly knows something that the Trump administration doesn't want the public to hear.
In a statement responding to the story, Democratic National Committee aide Zac Petkanas tied the White House's push to block Yates's testimony to the cancelled hearing, arguing that Nunes is working with the White House to hide information.
"Now we know why Chairman Nunes canceled the hearing today. This isn't an investigation into Donald Trump's ties to Russia — it's a cover-up," he said.