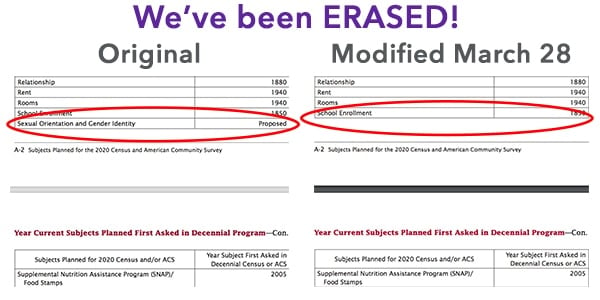 An announcement of Subjects Planned for the 2020 Census and American Community Survey put out by the Census Bureau which included Sexual Orientation and Gender Identity on its list was scrubbed and revised on Tuesday, reappearing without LGBT people as a designated group.
With days before its deadline, the U.S. Census delivered to Congress its report on planned subjects for the survey, including gender, age, race, ethnicity, relationship and homeownership status. Under law, the report is due three years before Census Day, with the next one is set to occur April 1, 2020….
…The report outlines the importance of including these questions in either the decennial U.S. Census or the newer and more detailed annual American Community Survey, which was established in 1985 and seeks to ascertain socio-economic and housing statistics.
But apparently an initial version of this report went too far. The U.S. Census issued a notice shortly afterward indicating the report was corrected because the initial appendix "inadvertently" included LGBT categories.
"The Subjects Planned for the 2020 Census and American Community Survey report released today inadvertently listed sexual orientation and gender identity as a proposed topic in the appendix," the statement says. "The report has been corrected."
The National LGBTQ Task Force posted an image (above) of the erasure on its website.
Said Meghan Maury, Criminal and Economic Justice Project Director, National LGBTQ Task Force, in a statement:
"Today, the Trump Administration has taken yet another step to deny LGBTQ people freedom, justice, and equity, by choosing to exclude us from the 2020 Census and American Community Survey. LGBTQ people are not counted on the Census—no data is collected on sexual orientation or gender identity. Information from these surveys helps the government to enforce federal laws like the Violence Against Women Act and the Fair Housing Act and to determine how to allocate resources like housing supports and food stamps. If the government doesn't know how many LGBTQ people live in a community, how can it do its job to ensure we're getting fair and adequate access to the rights, protections and services we need?"
Last week, the Trump administration erased LGBT people from a key annual Health and Human Services survey of older and disabled Americans.