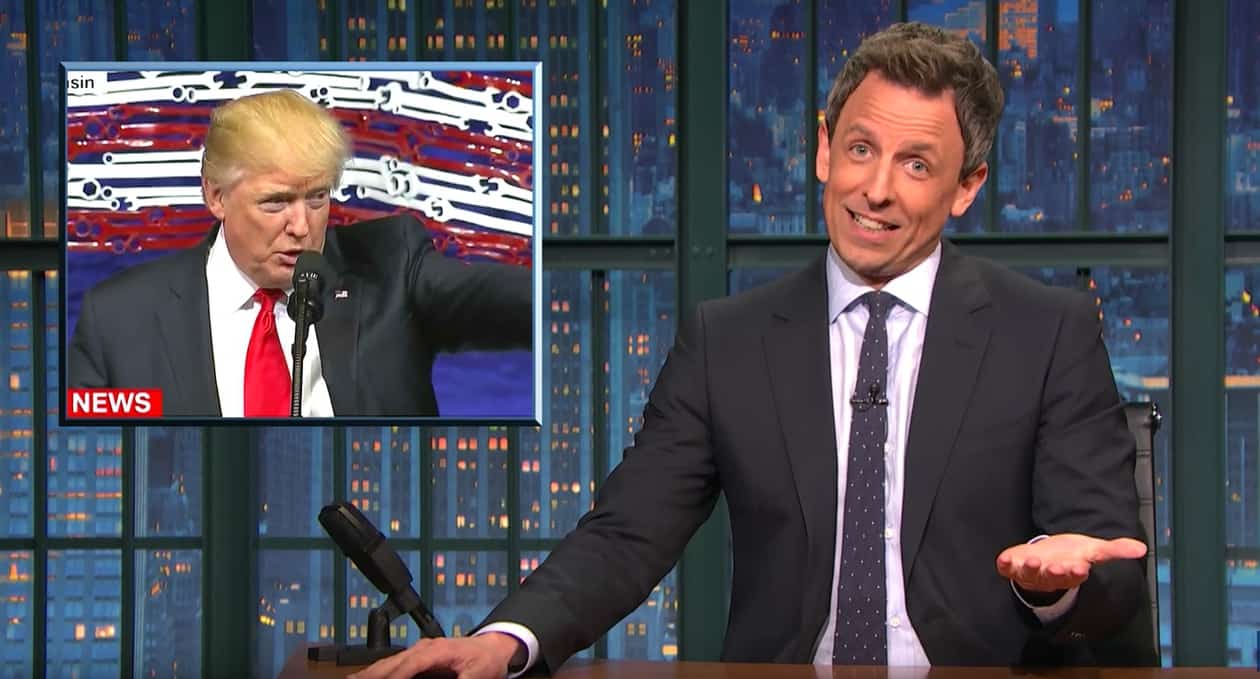 Seth Meyers took 'a closer look' at Trump's first 100 days and the specter of a looming government shutdown.
Said Meyers: "This will shock you, most people think he's not doing great….If this were a movie, it would be called 100 Dayz and Confused."
Meyers noted that "Trump is trying to turn an 'F' into an 'A', tweeting this last week:
https://twitter.com/realdonaldtrump/status/855373184861962240?lang=en
"Yeah, the 100 Day report card is an arbitrary, meaningless political milestone that most people don't actually care about. Most people, that is, except Donald Trump."
Trump bragged endlessly about what he would do in his first 100 days, which presents a big problem.
Said Meyers:
"Trump has failed to deliver on almost every one of his legislative promises. There are many reasons for this, including Trump's ignorance about the basic political realities of governing. In fact, Trump is so ignorant, he's ignorant of his own ignorance. For example, he apparently just learned that there are different factions within the Republican party and talked about it as if it was a brilliant insight, telling the AP, in an interview, 'the Republican Party has various groups, all great people. They're great people. But some are moderate, some are very conservative….And I think it's fine.'"
Quipped Meyers: "Trump is like an annoying eight-year-old kid who just got home from school: 'Did you know fish can breathe under water by using their gills?' Yeah, Timmy, I did know that. Everybody knows that. Now go suck on your juice box."
So how could things get any worse? A government shutdown.
Watch: