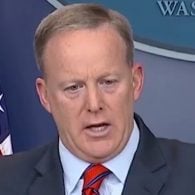 Donald Trump has invited members of the "neglected" conservative media for a reception at the White House on Monday, according to Press Secretary Sean Spicer.
Among those attending: One America News Network, The Daily Caller and Breitbart, as well as some columnists and talk radio hosts.
"They were neglected the last eight years, and they're an important medium to communicate to a massively growing number of Americans who, frankly, have grown tired of mainstream media's coverage," White House Press Secretary Sean Spicer said in an interview…
…"We've definitely done our fair share of meetings with mainstream reporters. Once in a while it's important to appreciate the folks who have really covered the president fairly and covered a lot of issues ignored by mainstream media," Spicer said.
Expect FOX & Friends to attend, or perhaps Twinks 4 Trump troll Lucian Wintrich and homocon Gateway Pundit:
https://twitter.com/gatewaypundit/status/831888124972322817?ref_src=twsrc%5Etfw&ref_url=http%3A%2F%2Fwww.towleroad.com%2F2017%2F02%2Flucian-wintrich%2F