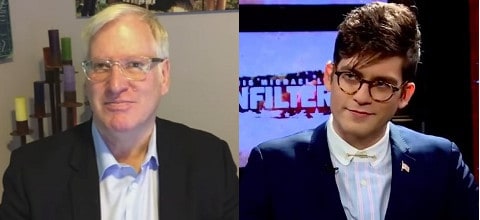 Deplorable right-wing gay blogger Jim Hoft (above left) now has his very own White House correspondent in the form of non-journalist Lucian Wintrich (above right).
Twinks4Trump's Wintrich was announced by Gateway Pundit's Hoft on Monday and both attended the White House briefing on the same day.
In photos published on Twitter, Haft and Wintrich are seen standing behind the lectern in the press briefing room, displaying a hand signal associated with the racist "Pepe" meme.
https://twitter.com/gatewaypundit/status/831888124972322817
Yes, you read that correctly – in the press briefing room. Displaying a hand signal associated with the racist "Pepe" meme.
Because that's ok.
A historic and packed press conference with @netanyahu & @realDonaldTrump today! pic.twitter.com/hzZtPg2NvC

— Lucian B. Wintrich (@lucianwintrich) February 15, 2017
Media Matters explain more about Hoft, their "dumbest man on the internet's" day trip:
Hoft's political blog has often served as the single source for completely unfounded reporting that nonetheless catches fire in the right-wing internet world, until it becomes what Kellyanne Conway might deem an "alternative fact." The frequency with which he posts hoaxes and complete fabrications as fact suggests Hoft either has a reckless and total disregard for the truth or is so incompetent he cannot separate fact from fiction.
On Wintrich, Media Matters notes:
The Gateway Pundit's new White House correspondent is now attending press briefings, and it's unclear how "brand strategist and digital creative" Lucian Wintrich, who frequently refers to the new president endearingly as "daddy," will approach this responsibility. If his past actions and social media persona are any indication, Wintrich will follow the Gateway Pundit formula for irresponsible and dangerous reporting, and perhaps even more explicitly incite harassment from his new White House platform.
…He recently wrote on social media, "I don't consider myself a journalist, I consider myself the future of journalism."
Indeed, Wintrich does not appear to have much experience as a political reporter prior to joining The Gateway Pundit; a Nexis search of his name for the last five years reveals only a handful of articles in which he is quoted, and no bylined pieces.
…Wintrich's experience as a writer seems to have begun with his tongue-in-cheek approach to personal harassment in college. According to a VICE profile of Wintrich, "his writings were rejected by the student newspaper" at Bard College while he was a student there, so Wintrich subsequently started a rival blog, which posted an anonymously written column referring to a fellow student's vagina as "cold and damp" and linking to her personal Facebook page.
No worse than allowing CNN to keep press passes!

— D. Scott @eclipsethis2003 (@eclipsethis2003) February 14, 2017
Wintrich is known to be close to or associated with such alt-right figures as Breitbart editor Milo Yiannopoulos, "Pharma bro" Martin Shkreli, Gavin McInnes, and "citizen journalist" vigilante James O'Keefe.