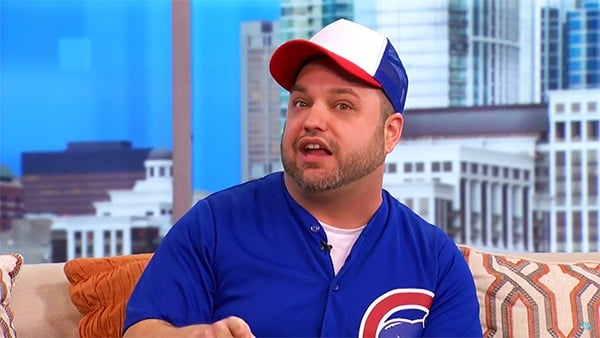 Filmmaker Matthew Aaron spoke with Entertainment Weekly about the significance of securing licensing from a Major League Baseball franchise for his LGBTQ-themed film Landline, which became available on demand this week.
The comedic independent film tells the story of lifelong Cubs fan Ted, played by Aaron, who is reevaluating his life after professional disappointments, and decides to go "off the grid" with his husband from his cellphone and the internet as they save up for a new home.
In a welcome landmark development, the Chicago team—and reigning World Series champs—agreed to be featured, even allowing filming at their iconic Wrigley Field.
While the film's message about genuine relationships amid an era ruled by cyber ties is relevant to the ever-evolving cultural landscape, it's the LGBT-related themes that are making waves on the indie scene. According to Aaron, with the help of MLB's Robin Jaffe, the film became the first film with queer characters to earn licensing support from a national sports league.
"In my research, there's never been a film that stars LGBTQ actors made with the association of the MLB, the NBA, the NFL, or the NHL," Aaron tells EW of the film, which also stars Parks and Recreation's Jim O'Heir and comedy staple Tom Arnold as Ted's supportive uncle and father, respectively. "[But] it's not a film about being gay. It's about two husbands who are going through their marriage together — typical, normal problems that everyone has."
"We never thought we were going to get [licensing for] the Cubs, and we never thought we'd get [to shoot at] Wrigley Field. We were just hoping that my character would be able to wear a Cubs jersey here and there for a couple thousand dollars," Aaron explains. "Robin really wanted to support indie filmmaking, which they've never done before, and they wanted to support this film. To top it all off, they wanted to support a film with LGBTQ leads in it."
Aaron, 33, also pointed out that he sought to cast LGBTQ actors in his film, such as trans actor Avi Roque, as well as several gay cast members.
Watch the trailer below: