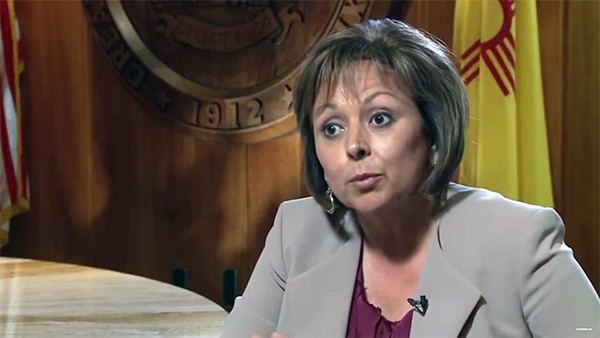 New Mexico Governor Susana Martinez, a Republican, signed into law a bill that would prohibit the use of 'conversion therapy' in the state, making it the seventh to bar the practice.
SB121, which would delicense therapists that seek to use discredited methods that attempt to change one's sexual orientation and identity on minors, was passed by the Democratic-controlled New Mexico legislature last month and was awaiting the governor's signature. Although Gov. Martinez has not been shy about exercising her veto this year, she gave the go-ahead to the ban, citing the the best interests of children in her statement, namely the American Psychological Association's assessment that conversion therapy "may lead to depression, anxiety, poor self-esteem, self-hatred, substance abuse, and suicide," as well as explicitly ruling out opponents' contention that the bill would have any impact on religious organizations.
The bipartisan passage of the bill was warmly welcomed by the Human Rights Campaign, as well as LGBTQ advocacy organization Equality New Mexico:
"This is an incredible victory for LGBTQ youth in New Mexico," said HRC Legal Director Sarah Warbelow. "No child should be subjected to this dangerous practice that amounts to nothing more than child abuse. By signing this crucially important legislation into law, Governor Martinez is standing up for vulnerable youth who deserve to be loved and supported for who they are."
"As a survivor of conversion therapy that happened right here in my home state of New Mexico, it's a very special day to see this barbaric and dangerous practice banned in the place that I grew up and call home," said Equality New Mexico Executive Director Amber Royster. "My hope is that parents and families everywhere will think twice before seeking to change their LGBTQ child or loved one, and now we have the legal mechanism to ensure it doesn't happen at the hands of licensed practitioners in New Mexico."
Other states which have passed similar laws forbidding conversion therapy are California, Vermont, Oregon, New Jersey, New York, and Illinois. The Supreme Court has left intact New Jersey's law, leaving an attempted challenge against it unsuccessful. Even as the practice has fallen increasingly out of favor, Vice President Pence is a notorious advocate, as is embattled Secretary of Education Betsy DeVos.