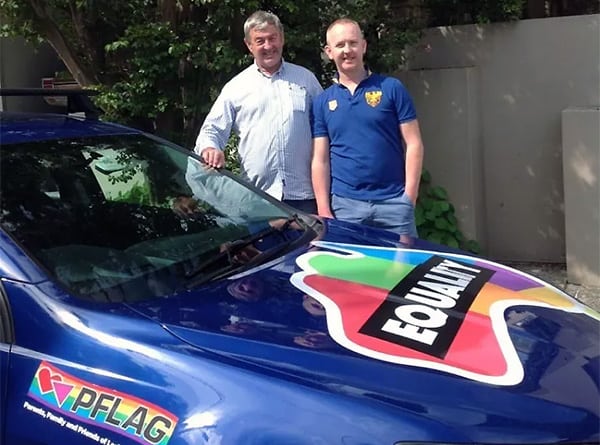 Geoff Thomas decided just talking about marriage equality in Australia wasn't enough. He wanted to visibly support it as well. His utility vehicle now sports several eye-catching decals depicting slogans such as "Every man and his dog supports marriage equality" and "Call Your MP and Senator today," as well as PFLAG's and Australia's Equality Campaign logos.
The Abbotsbury resident, west of Sydney, tells Buzzfeed that his son Nathan came out to him twelve years ago and he has been a vocal advocate for LGBT issues ever since:
"I spent nine years in the army, I'm a Vietnam veteran, I was a plumbing contractor," he said. "I was conditioned to be homophobic, and then one day my son comes out to me.
"I had to ask myself the question – what is it about gays that I didn't like? After that, I decided it was unfounded fear, ignorance and prejudice. Then I came to the view that my son wasn't equal in law and that really got up my nose, so I became a very strong advocate for marriage equality.
"I'd had this talk with some people and I said, 'Every man and his dog supports marriage equality'. And I thought, I'll put that on my ute!"
Thomas also said he plans to go on an equality tour later this month elsewhere in New South Wales, as well as Melbourne and South Australia. Meanwhile, he is confident his car attracts plenty of attention wherever he goes in Sydney.
Same-sex marriage has had a troubled history Down Under even in the face of progress elsewhere, with an unsuccessful attempt by the then-Labor government to legalize it in a vote in Parliament in 2012, followed by current conservative Prime Minister Malcolm Turnbull's fixation on a referendum that never came to pass. He has not signaled any other avenues to legalization, even though bills have been introduced by lawmakers that have flaws and are not likely to advance.