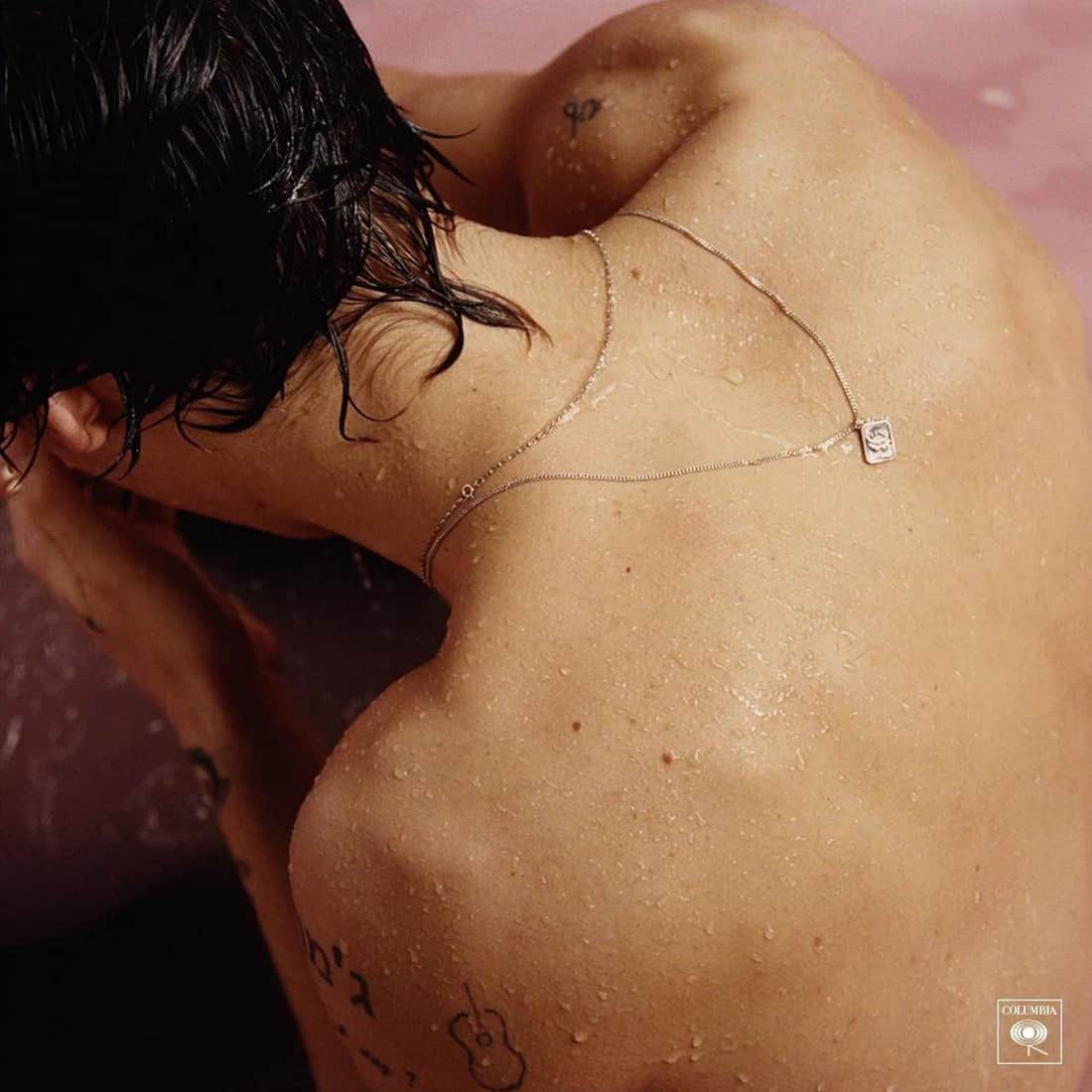 Billboard took a deep dive into the artwork around Harry Styles's first solo record and his single "Sign of the Times", suggesting that Styles is playing with gender norms.
Water returns in both the album cover and back image. On the front, Styles appears to be half submerged in a pastel pink bath. His back remains facing us, but it's much closer now, and unclothed — it's the most un-tattooed part of Styles, giving off a feeling of additional nudity, as there's no black ink artwork to give off a particular individualism. It's worth noting that the popular headline to describe the image was "topless," usually a gendered term to connote an exposed cis woman's chest. There's something distinctly feminine about the reading of the cover.
Water — being wet — is also something almost uniquely femme. Female pop stars are usually the ones dosed in water, when men do so, it's usually those with some gender-bending and/or queer qualities (think George Michael) or for the sole purpose of, more often than not, hetero-female enjoyment (fellow boy band heroes the Backstreet Boys or Justin Bieber all the time.) Harry Styles is a heartthrob, and placing him in water is a move certainly open to sexualization, but given the bath-like qualities of the image and his positioning away from the viewer, it feels more voyeuristic — and in some ways, melancholic.
Click over to the full article for more in-depth analysis.
Harry Styles performed "Ever Since New York" and "Sign of the Times" on SNL on Saturday.
https://www.youtube.com/watch?v=HKNaz_UagRA
https://www.youtube.com/watch?v=feyRL4lrWWk