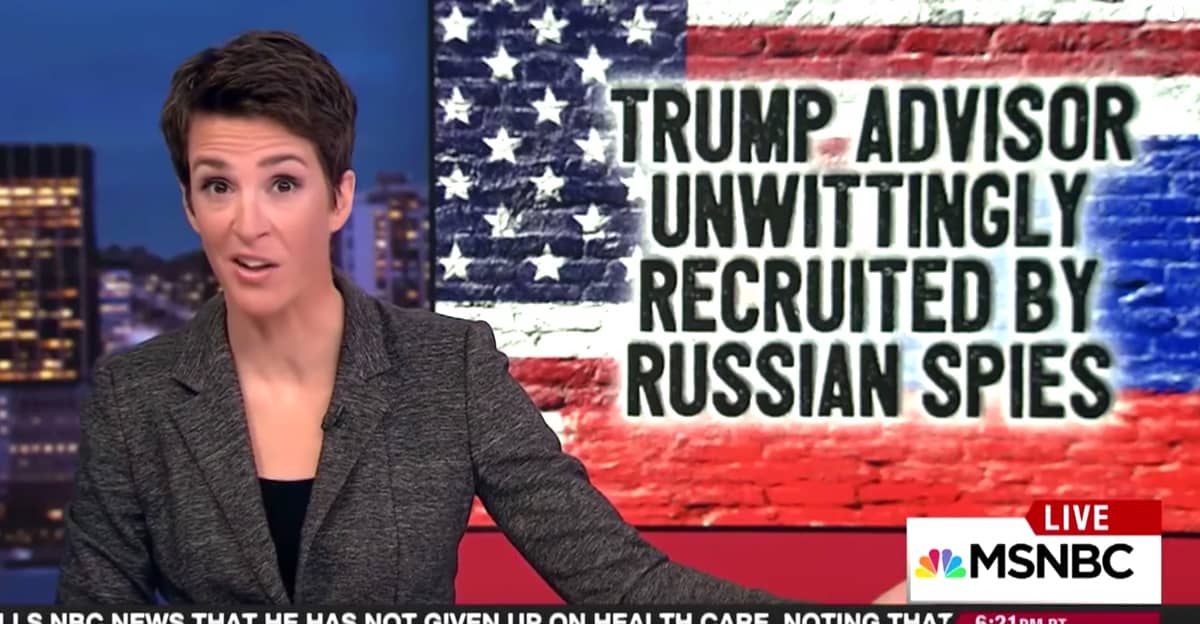 In her A-block last night, Rachel Maddow unpacked news uncovered by Buzzfeed that provides "the most clearly documented contact to date between Russian intelligence and someone in Trump's orbit."
And it comes with a Jared Kushner twist.
Maddow began the segment by looking at Kushner's trip to Iraq which has added another duty to the list of those assigned to Trump's son-in-law. These include being put in charge of U.S. relations with Canada, and Mexico, "the wall," all trade deals, reimagining veterans affairs, the opioid crisis, broadband policy, the criminal justice system, and Trump's infrastructure plans.
Snarked Maddow:
"Busy young man. Hopefully he was adequately prepared for all these enormous responsibilities by his vast life and work experience which consists entirely of him inheriting his father's real estate business. He also did have to run the business himself for a time while his dad was in prison."
Maddow then took a look at recent news about Russian spy Evgeny Buryakov. Buryakov was just sprung from prison and will be deported back to Russia. Buryakov was working with two other spies who fled back to Russia when they were discovered and were not apprehended.
The busted spies were listened in on by the FBI who hid microphones in their notebooks. The intel the FBI discovered when the Russians began talking in their secure location was that they had recruited Americans in 2013, one of whom happened to be Trump campaign foreign policy adviser Carter Page.
The revelation of Page's connection to Russian intelligence — which occurred more than three years before his association with Trump — is the most clearly documented contact to date between Russian intelligence and someone in Trump's orbit. It comes as federal investigators probe whether Trump's campaign-era associates — including Page — had any inappropriate contact with Russian officials or intelligence operatives during the course of the election. Page has volunteered to help Senate investigators in their inquiry.
It remains unclear how connected Page was to the Trump campaign. He rose to prominence seemingly out of nowhere last summer, touted by then-candidate Trump as one of his foreign policy advisers. Page was quickly cut from the Trump team following reports that federal investigators were probing his ties to Russian officials. White House press secretary Sean Spicer said last month that the campaign had sent Page cease and desist letters last year, demanding he stop associating himself with it.
But there is another Trump connection that feeds into this story. Buryakov, at the time he was spying, was working, as his cover, for state-run Russian VEB bank.
It was recently reported that Jared Kushner did not disclose a meeting he had in December with the chairman of VEB bank, which has been under U.S. sanctions for three years.
Said Maddow:
"At some point in coming days [Kushner] will have to make time in his incredibly busy schedule to testify to the Senate Intelligence Committee about why, during the presidential transition, he met with the FSB-trained official who Vladimir Putin hand-selected to lead a Russian state bank that is currently sanctioned by the U.S. government and that harbored a Russian spy network in this country that among other things recruited a Trump foreign policy adviser as a Russian asset just a few years ago."
Watch: