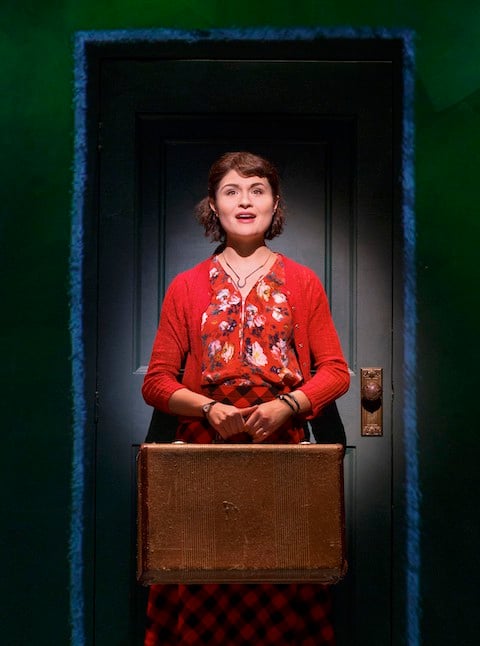 Just before the curtain falls on Amélie, which opened at the Walter Kerr Theatre last night, Phillipa Soo (of Hamilton fame) offers a wry, tight-lipped smile, her eyes wide. Fans of the acclaimed 2001 French film will recognize this look — one of modestly concealed wonder that Audrey Tautou immortalized on screen. It is the final example of a musical that dutifully hits its marks, but falls short of capturing, on its own terms, the magic of Jean-Pierre Jeunet's movie.
Banking on beloved source material is a typical Broadway formula (Groundhog's Day and Charlie and the Chocolate Factory musicals open later this month), and Jeunet's film is rich with fine ingredients — unbridled imagination, eccentric characters, and sweet love plots. While a number of these elements are ostensibly preserved here, the musical too often relies on viewers' fond memories of the film (assuming we have them) rather taking ownership of the story and reshaping it for the stage in a memorable way (to see how this can be done, head over to Waitress).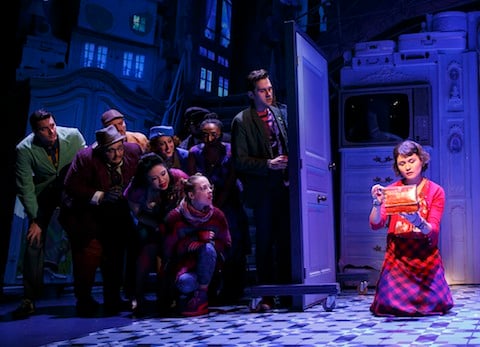 Jeunet's film is an intimate yet fantastical psychological portrait; narrated from beginning to end, it tests the boundaries of cinema to take us inside the mind of shy, precocious Amélie from Montmartre (two of its Oscar nods were for cinematography and sound). Sporadic moments of narration survive in the stage adaptation by Craig Lucas (who earned a Tony nomination for adapting An American in Paris), but what other storytelling there is comes via a middling and forgettable pop score by Daniel Messé (of the band Hem) with co-lyricist Nathan Tysen (Tuck Everlasting).
Even after 100 intermissionless minutes in Amélie's company, it would be difficult to say we know what lies behind that iconic expression.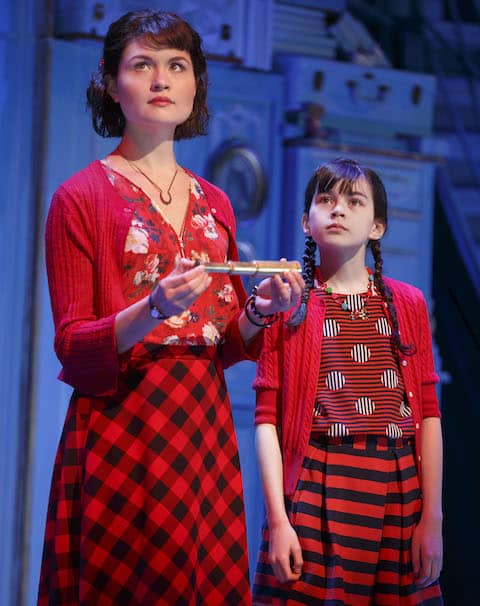 The best evidence comes from the show's early numbers, when we meet her withholding father, short-lived mother, and, in the best bit of stagecraft in Pam MacKinnon's uneven, lo-fi production, the goldfish Amélie's parents force her to set free. More so than Soo, Savvy Crawford offers us a glimpse of her character's inner life as young Amélie, who occasionally pops up later in the show to remind us why adult Amélie turned out the way she did. Perhaps David Zinn's curious funhouse set, all stacked wardrobes and ornate picture frames, is meant to do the same.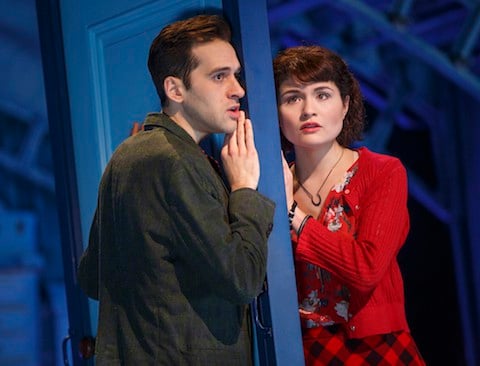 But bringing a shy, reticent character to life (in song, no less) is a challenge — and unfortunately, nothing about Amélie quite rises to the task. More often than not, Soo's Amélie seems a bit of a bore — a cipher when she should be a font, bland when she might be magnetic. All this makes the central romance, in which Amélie finds a photo album then plays coy in returning it to the owner (Adam Chandler-Berat), feel inconsequential at best and tedious at worst (the couple seated in front of me audibly groaned and left the theatre during the final kiss).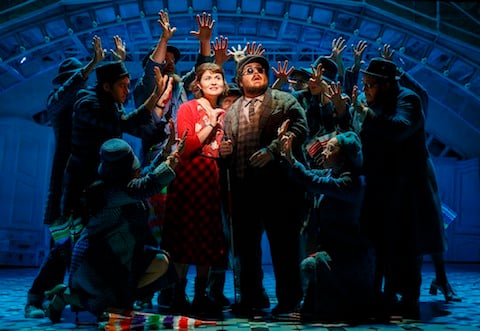 It doesn't help that the world of MacKinnon's production seems like a children's game of make-believe, and Soo the strangely inanimate doll at its center. Alas, no amount of spirit fingers seem to help. Fortunately, Amélie is streaming on Netflix.
Follow Naveen Kumar on Twitter: @Mr_NaveenKumar (photos: joan marcus)