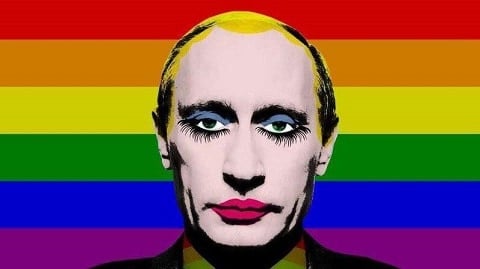 Russia has banned an iconic meme depicting snowflake President Vladimir Putin in drag because it suggests that he is gay.
Last week, the Justice Ministry formally added the image to a list of banned extremist materials which now includes more than 4,000 items.
That poster became popular in 2013, after Russia passed a law banning "gay propaganda" about "nontraditional sexual relations."
Russian news outlets are having some issues reporting on the ban because it has been banned. Obviously. The Moscow Times notes that the image in question "likely resembles the photo at the top of this story." In the name of responsible journalism, the Russian newspaper provides a number of compare and contrast images.
It's now illegal in Russia to share an image of Putin as a gay clown, but for now it's still legal here. Share away b4 Trump outlaws it too. pic.twitter.com/bsLwnuQOd0

— Facts Do Matter (@WilDonnelly) April 5, 2017
The Justice Ministry acted in response to a verdict last year by the Central Regional Court of Tver, which on May 11, 2016, banned more than a dozen pictures uploaded to the social network Vkontakte by a man named A. V. Tsvetkov. He was sent to psychiatric care after his trial.
Court records say the image showing Putin in makeup "hints at the Russian president's allegedly nonstandard sexual orientation."
The court also banned another image Tsvetkov uploaded to Vkontakte depicting Putin and Prime Minister Dmitry Medvedev in Nazi uniforms, alongside the head of the Russian Orthodox Church, Patriarch Kirill.
В РФ признали экстремистским плакат с накрашенными Путиным и Медведевым https://t.co/HhJvROd6Bl

— Gordonua.com (@Gordonuacom) April 5, 2017
@Navsteva @rahulvarshney @KevinRothrock A meme doesn't make him corrupt any more than this makes Putin gay pic.twitter.com/xiGbRZNaRB

— NoBigGovDuh (@NoBigGovDuh) December 5, 2015
The Washington Post notes that the item, number 4071 on the list of banned items, shows an image of a probably-Putin "'with eyes and lips made up,' captioned with an implicit anti-gay slur, implying 'the supposed nonstandard sexual orientation of the president of the Russian Federation.'"
Other items on the banned list include the 2007 brochure Brochure "Saryn on a boar!" which is thought to refer to the image below (image – screen shot via VOX).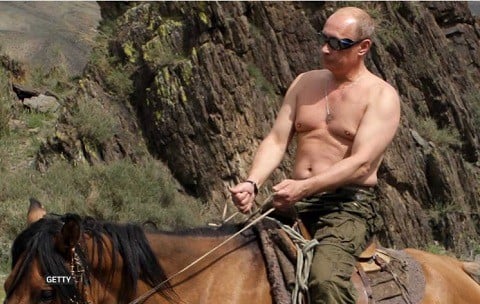 Last year, Russia sentenced a woman to community service for reposting a cartoon of Putin looking at a map with a knife in his hand. A former naval captain who reposted an antiwar report about Ukraine is reported to have received a two-year suspended sentence and one year of probation for inciting hatred and animosity.
(Main image via Facebook)