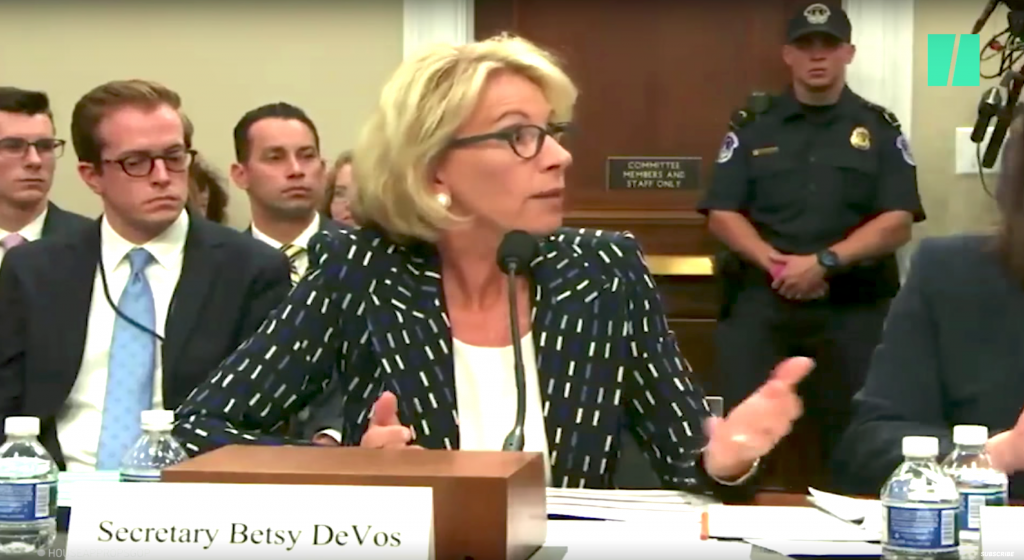 Controversial Education Secretary Betsy DeVos on Wednesday told a House Appropriations subcommittee that states should be allowed to set rules on whether or not schools can discriminate against students for any number of reasons, including sexual orientation and gender identity, even if those schools receive federal funding.
"For states who have programs that allow for parents to make choices, they set up the rules around that," DeVos told Rep. Katherine Clark (D-Mass.) during a heated exchange.
"The Office of Civil Rights and our Title IX protections are broadly applicable across the board," DeVos added before being interrupted by Clark.
After another heated exchange, DeVos finished her testimony on the matter by saying:
"The bottom line is we believe that parents are the best equipped to make choices for their children's schooling and education decisions. States and local communities are best equipped to make these decisions and framework."
A baffled Clark ended their exchange with a single sentence.
"I am shocked that you cannot come up with one example of discrimination that you would stand up for students."
DeVos' lack of support for LGBT students isn't new, however. In February, DeVos reportedly
caved
under pressure from President Trump and accepted an order rescinding former President Obama's directive to schools protecting transgender students from discrimination.
Earlier that same month during her confirmation hearing, Sen. Al Franken (D-MN)
ripped
DeVos for her support for anti-LGBT groups and conversion therapy.
"Mrs. DeVos, your family has a long history of supporting anti-LGBT causes including donating millions of dollars to groups that push conversion therapy, the practice of trying to change someone's sexual orientation or gender identity," Franken said. "For example, you and your family have given over $10 million to Focus On the Family, an organization that currently states on its website that, 'homosexual strugglers can and do change their sexual behavior and identity.'
Lambda Legal released its own
statement
in January condemning DeVos, calling out her support for anti-gay organizations and practices and highlighting fears that she would put LGBT students at further risk.
"What we know so far about Betsy DeVos's record concerns us," the statement read. ""She has supported Focus on the Family, which opposes marriage equality, and her family foundation has funded a group that advances the dangerous practice of so-called 'conversion therapy.' Her advocacy for privatizing public education could eject students – LGBT or not – from the protection of federal laws."