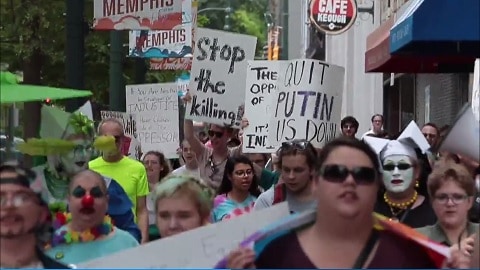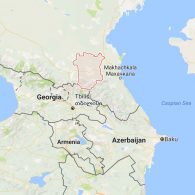 Around 75 people took part in a #PutinInDrag event in Memphis on Saturday to protest the ongoing detention and torture of gay and bisexual men in Chechnya.
The event began at Court Square in downtown Memphis. Protesters marched to the lawn in front of the National Civil Rights Museum carrying signs reading "Love is love is love" and "The opposite of love is not hate, it's indifference." They also chanted  "transphobia has got to go!"
Sister of Perpetual Indulgence Tomm Foolery – aka Chris Riales – led the group in a ceremony to "exorcise the hate from the Russian and Chechen governments."
According to the Commercial Appeal, Riales said:
"We are a mission house of the Sisters of Perpetual Indulgence, a worldwide order of cutting-edge queer nuns devoted to spreading joy and banishing hate in all forms from all places.
"We go out into the world and proselytize our ministry in the same way that other nuns do.
"It is our view that life isn't all it could be when one is burdened by shame and guilt. We take it upon ourselves to expiate that guilt and replace it with joy."
Last week, it was reported that Russian officials are believed to be actively investigating claims of the purge of gay and bisexual men in Russia. That investigation is likely to have been motivated by the international outcry to the crackdown.
Five countries – three EU and two non-EU – are now said to be in the process of accepting or considering taking in in gay refugees from Chechnya. Ambassador to the United Nations Nikki Haley has spoken out against Chechnya. The State Department has said that Chechens can apply for visas but told Buzzfeed News that there was no visa category specifically for "humanitarian relief".