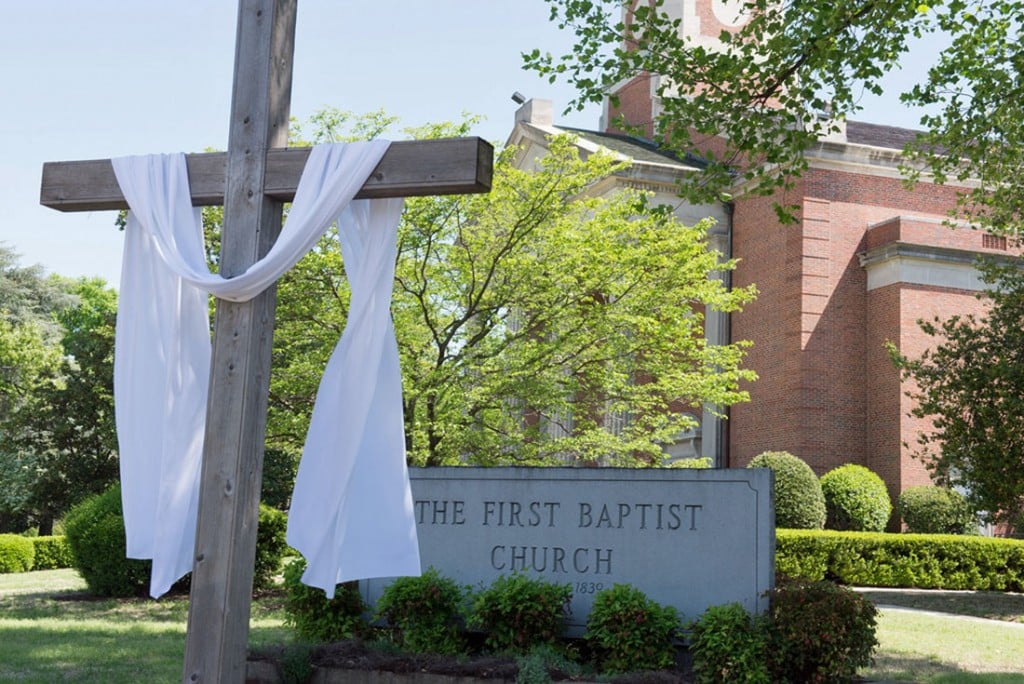 With Tennessee's LGBT community under attack from state lawmakers and others, one Baptist church in Memphis just took an unlikely stand for gay rights.
Members of First Baptist Church of Memphis (above) approved a resolution Sunday allowing same-sex marriage and gay clergy in the congregation.
"As Christ's church, First Baptist Memphis is called to minister equally to all persons, extending to them the privileges afforded to any follower of Christ, including, but not limited to, baptism, membership, leadership, ordination, and marriage and will not discriminate based on race, gender, age, marital status, or sexual orientation," the resolution states.
The Rev. David Breckenridge, senior pastor since 2008, said the church has a long tradition of being progressive on social issues, according to a report in The Commercial Appeal. The 175-year-old congregation was among the first Baptist churches to welcome African-Americans, ordain women and part ways with the right-wing Southern Baptist Convention.
The SBC, of course, excludes churches that "act to affirm, approve or endorse homosexual behavior." But the First Baptist Church of Memphis is affiliated with the Cooperative Baptist Fellowship, a more progressive denomination that hasn't taken a position on same-sex marriage or gay clergy.
"This isn't a vote about the kind of church we want to be in the future, it's a vote about who we are now," deacon board president David Richardson told the Commercial Appeal.
The church's vote comes at a critical time for LGBT rights in the state. One Tennessee lawmaker has introduced an anti-gay bill comparing same-sex marriage to forced sterilization, while another has filed legislation to restrict restroom use by trans students. A third wants the state to get rid of marriage licenses altogether to avoid issuing them to gay couples. Meanwhile, the anti-LGBT Family Action Council of Tennessee is circulating a petition, already approved by four counties in Eastern Tennessee, calling for the state to nullify the U.S. Supreme Court's ruling in Obergefell.
The Tennessee Equality Network, a statewide LGBT advocacy group, is encouraging marriage equality supporters to attend meetings where the anti-gay resolution is scheduled to be discussed.
"I don't know of any legal expert who thinks the state has a shot of nullifying that Supreme Court decision," TEN Executive Director Chris Sanders told The Johnson City Press. "It's a waste of taxpayer time and money. … It's important to connect with the people who think they're alone in opposing this. There are a lot of people in Northeast Tennessee who think these resolutions are a bad idea."