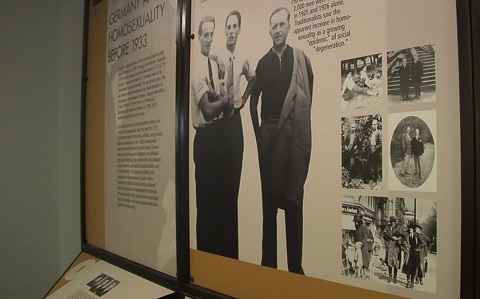 German lawmakers have voted to quash the convictions of 50,000 gay men sentenced for homosexuality under a Nazi-era law.
Although the law dates from 1871, it was rarely enforced until the Nazis came to power. In 1935 the law was amended to carry a sentence of 10 years of forced labour.
According to the Guardian, more than 42,000 men were convicted during the Third Reich and sent to prison or concentration camps.
After years of lobbying by survivors and activists, the measure quashing convictions overwhelmingly passed the Bundestag lower house of parliament.
The estimated 5,000 men found guilty who are still alive will be offered a lump sum of €3,000 ($3,350) as well as an additional €1,500 ($1,675)  for each year they spent in prison.
In 2002, Germany introduced a law that overturned their convictions. However, that move did not include those prosecuted after the second world war.
The law was finally dropped from East Germany's penal code in 1968. In West Germany, it reverted to the pre-Nazi era version of the law in 1969 where it was only fully repealed in 1994.
In a statement, government's anti-discrimination office representative Sebastian Bickerich referred to the law as a "stain" that has now been removed.
Justice Minister Heiko Mass added:
"The rehabilitation of men who ended up in court purely because of their sexuality is long overdue.
"They were persecuted, punished and ostracised by the German state just because of their love for men, because of their sexual identity.
"We shall never be able to completely atone for the crimes of the judicial system, but we want to rehabilitate the victims.
"Prosecuted gay men should no longer have to live with the stigma of their conviction."
Earlier this year the British government announced that thousands of gay and bisexual men convicted for sexual offences would be pardoned under the "Alan Turing law".
Several other countries including Ireland, Canada and New Zealand are considering pardons for those convicted under repealed laws against same-sex relationships.
Watch a documentary on an exhibit Nazi Persecution of Homosexuals and the trailer fo The Pink Triangle and the Nazi cure for Homosexuality below.
(Image screenshot via YouTube)