NYC PRIDE. Towleroad will be running the live broadcast of NYC Pride this Sunday. Please join us to watch.
DEPP DENUNCIATION. White House condemns Johnny Depp: "President Trump has condemned violence in all forms and its sad that others like Johnny Depp have not followed his lead. I hope that some of Mr. Depp's colleagues will speak out against this type of rhetoric as strongly as they would if this was directed towards a democrat elected official."
TRANS PRIDE. June 22 was Laverne Cox Day in NYC.
LIES. FOX & Friends and Daily Mail claim James Comey visited the New York Times yesterday: "Fox's report was based on a Thursday article from Daily Mail which included pictures of Comey and his wife entering the building where the Times' newsrooms are located. This initially created the impression that Comey was giving the paper an interview, one where he could possibly leak important news, or else, react to Donald Trump's tweeted admission that the president never taped him as previously suggested."
WIGGING OUT. Kevin Spacey is trying to show up John Travolta.
CALIFORNIA. Attorney General Xavier Becerra announced that California will prohibit state-funded and state-sponsored travel to Alabama, Kentucky, South Dakota and Texas based on discriminatory legislation enacted in each state.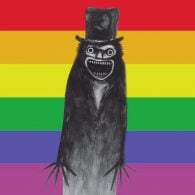 BABADONG. There's now a Babadook dildo.
UNDERGROUND PRIDE. London's transportation system goes rainbow.
GERMANY. Social Democratic Party wants gay marriage after September national election: "By staking out the position, the left-leaning SPD is taking the same stance as the environmentalist Greens, who could be a kingmaker in three potential coalitions after the Sept. 24 election – one of them involving the SPD."
ISRAEL. Man arrested with knife at Beersheba LGBT Pride parade. "Two ultra-Orthodox men, one carrying a knife, were arrested nearby. One was found armed with a knife in the vicinity of the parade and the second had attempted to forcibly enter the procession."
SUMMER SPLASH. Alexander Skarsgard hits the pool.
INSTAUPDATE. Nick Jonas, Robert Downey Jr., Jeremiah Brent, Sam Callaghan, and Greg Sulkin.
https://www.instagram.com/p/BVlBu_kHa-g/
FRIDAY FLASH. Phillip Evelyn.
https://www.instagram.com/p/BVhviFsBb8B/?taken-by=modello9
https://www.instagram.com/p/BTCtaSThimL/?taken-by=modello9