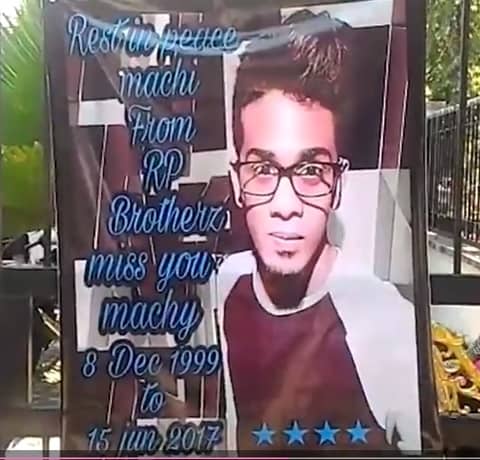 An 18-year-old Malaysian man has died after he was beaten, burned and sodomized with an object by a group of eight youths.
Student T. Nhaveen and his friend T. Previin (19) were attacked at around midnight on Saturday, June 10th in George Town, Penang.
According to the Straits Times, two youths known to Nhaveen and Previin started teasing the duo. FMT reports that the two were alleged to have bullied Nhaveen in school for "being effeminate."
#Nhaveen's mum: Don't let it happen to anyone else's childhttps://t.co/6ixFetTUiu pic.twitter.com/4Di41dShXw

— New Straits Times (@NST_Online) June 17, 2017
Nhaveen pleaded with the two to stop. However, they instead called their friends and six other youths arrived on motorcycles. The eight then started beating Nhaveen and Previin repeatedly with helmets.
An unconscious Nhaveen was taken by a brother of one of the assailants to the Penang Hospital where he was treated for severe head injuries and a serious wound to his groin. Doctors told his family that there was evidence of forced penetration to Nhaveen's anus and as well as burn marks on his back.
Nhaveen was pronounced brain dead and died at 5.31 pm last Thursday. Police have arrested five suspects, aged between 16 and 18, in connection with the assault.
Four of the assailants appeared in court yesterday charged with causing grievous harm to Previin.
Justice need for T.Nhaveen murder pic.twitter.com/HnhjFltwpY

— M.Devraj @ Raaj (@Raaj2301) June 15, 2017
According to the Star, the four – unemployed S. Gokulan (18), college student J. Ragesuthen (19) and two secondary school students aged 16 and 17 – pleaded not guilty.
They were charged under Section 326 of the Penal Code, which carries a maximum jail sentence of 20 years and fine or whipping upon conviction.
They were then transferred to a magistrate's court where they were jointly charged with murdering Nhaveen. The offence carries the mandatory death sentence upon conviction.
Watch two Star TV reports below.
https://www.youtube.com/watch?v=pMDajXSuy9c
https://www.youtube.com/watch?v=9GUALjVwHNk