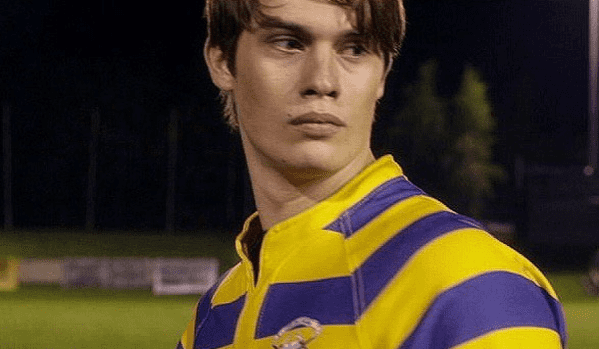 The third time is the charm. Just three years and three films into his acting career, Nicholas Galitzine has what looks like a breakout role. The Irish dramedy HANDSOME DEVIL centers around the unlikely friendship of a new student Ned (Fionn O'Shea) and the star athlete Conor (Galitzine) at a rugby-mad boarding school. Their friendship is encouraged by their teacher Mr Sherry (played by the gay Irish actor Andrew Scott of Pride and Sherlock fame) but the rugby team isn't wild about it. Conor is a wonderful showcase for Galitzine's talent, and in more ways than one. The role also allows the actor to use what he calls "my separate passion," his music.
Screen International named Galitzine one of their "Stars of Tomorrow" in 2015 as part of their annual feature promoting the UK's most promising actors. Their prediction is looking sound. "I've been very lucky so far," he admits with genuine graciousness. He's eager to test his range and thrilled to be working with and learning from great actors like Andrew Scott.  Our interview follows…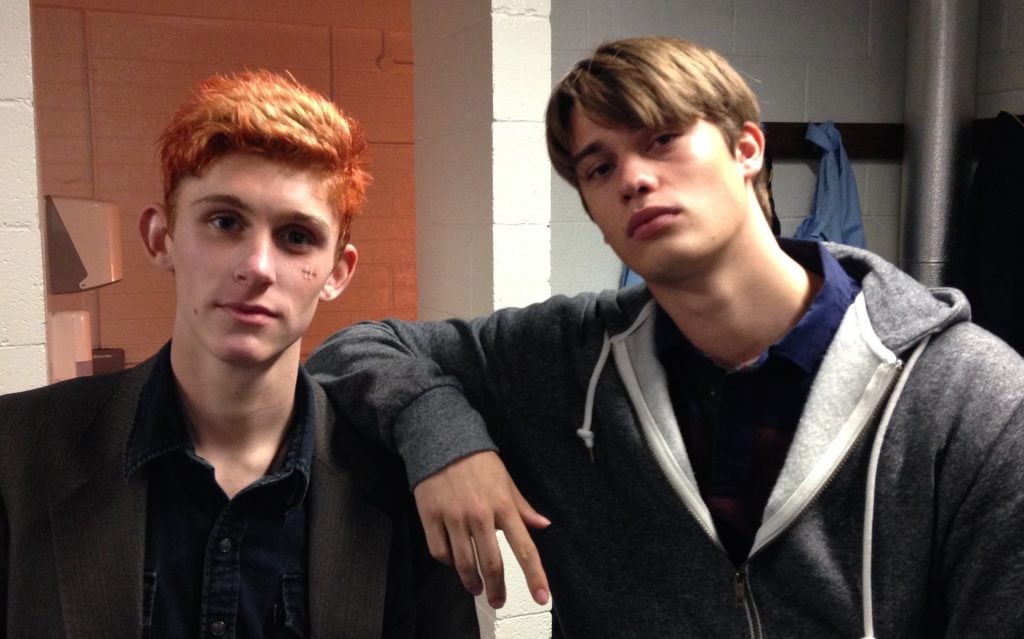 Handsome Devil is really good. One of the key themes is finding your own voice. Andrew Scott has that great line  "You spend your whole life being somebody else, who's gonna be you?" Do you relate to that search to discover who you really are?
NICHOLAS GALITZINE: It's a universal theme that a lot of young people identify with. It's really difficult to stay away from all of those voices and similarities in the mainstream. You grow up kind of wanting to be like someone else and you try and recreate that. It leads to you being an inauthentic person in some ways. It's not just if you're a musician or an artist, It's an issue of identity and being true to yourself. I think everyone is part of a school clique in high school or wherever — maybe you get roped into a way of thinking.
[youtube https://www.youtube.com/watch?v=NQjwRcz8bFY]
In the film there's something kind of tragic about this weird vicious cycle of machismo that all these boys buy into. They don't really know why they do it. Hopefully Handsome Devil will shed a light on that and help young people realize it's more than okay to be different. It's actually pretty fucking cool.
The film hasn't really been advertising itself as a gay film, so I was surprised when I saw it as a festival last year. Have you learned a lot about LGBT issues and discussed it a lot at Q&As by this point?
It's a huge theme in the film so people ask about it a lot. Just before we filmed this the referendum came out in Ireland that they were going to give gay people the right to marry. That was a huge thing in that country. It is really lovely to see how passionate members of the gay community are and how much this means to them . We had a mother at the last screening. She was saying 'I have a gay daughter and this really touched me in a big way because it's all about being true to who you are.' I hope that there are other other gay and LGBTQ teens who see this and feel compelled to speak out and be true to themselves.
I come from a very multicultural background. Being a Londoner you kind of grow up with every type of person around you so you're more comfortable with anything. But maybe people from other communities…
https://www.instagram.com/p/BUhr_UEFH71/
There's a large music element to Handsome Devil and you sing and play guitar beautifully [See his Instagram account].  Does that mean you're popular on set, people making you pick up the guitar between setups? 
GALITZINE: [Laughter] There's a little bit of that, a little bit of jamming that we did on set. And a little bit of rugby playing as well! I was going to be a rugby player as a career. But every time I picked up a ball I had the producers shouting at me because I was going to get injured in some way or another. But it's actually funny because we were supposed to do this shot [with a high speed camera tractor]. We did this rehearsal and I knew this move wasn't going to work. They almost ended up breaking my legs. The producers won't be happy with me telling that story but it's funny looking back on it now because they wouldn't let me even touch a ball but they'd almost run me over.  The irony is oh so sweet.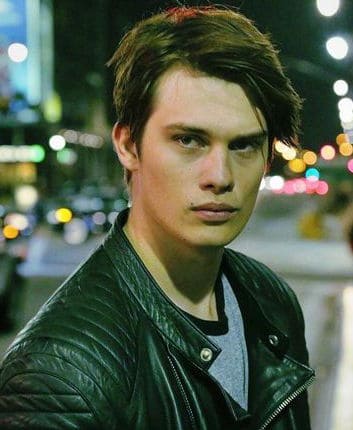 What kind of roles would you really love to play next?
I really just want to play multi-faceted characters. There's a darkness inside me that makes me want to play a psychopath or something like that. Tom Hardy did it so well in Bronson, playing an unhinged character. It's kind of getting past the way people might look at my face to convince on the character side.
About that face. Obviously you're leading man attractive. Do you think you've lost jobs because you're too pretty?
I don't view myself in that way but I notice it's the way I'm perceived. The second film I did [High Strung] was down to an aesthetic that was appealing to teenager girls.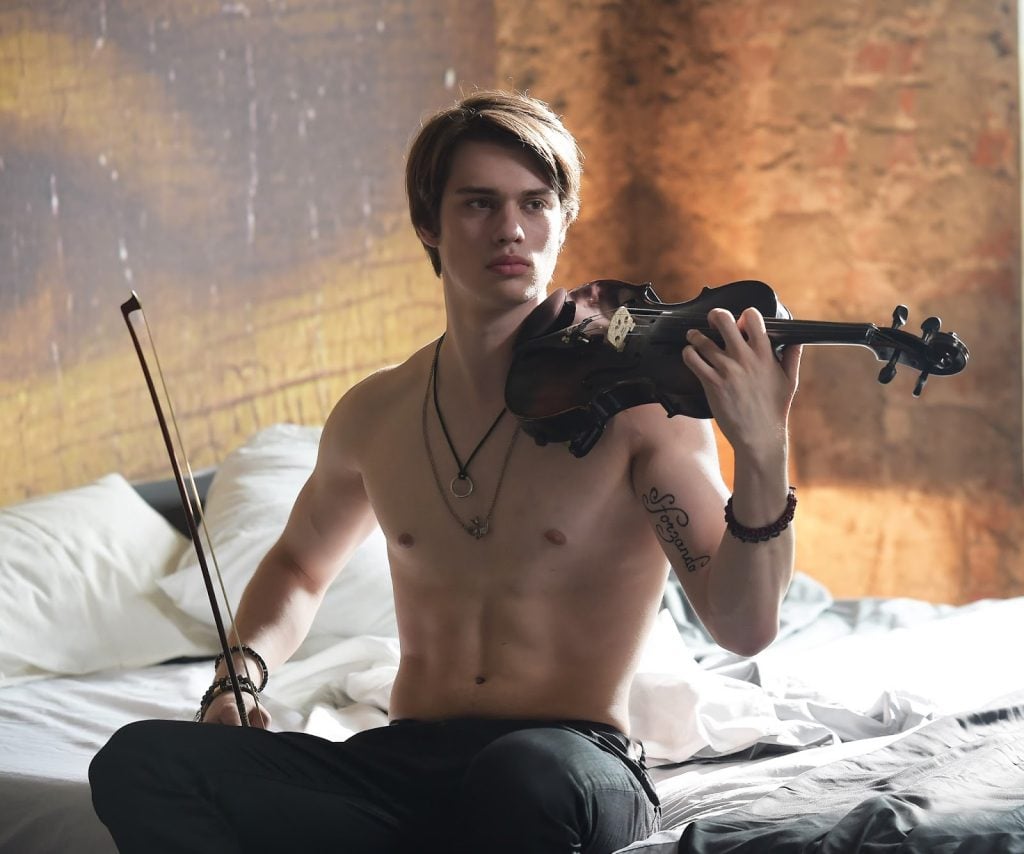 I think a lot of actors go through this: You look a certain way — the genes that your mum and your dad gave you — and there's a character which you know you could bring 100%, the audition has gone really well, but at the end of the day it comes down to aesthetics.  Some times they want someone with a different shaped nose or whatever. They have a very specific image in mind.
That's something you have to take with a pinch of salt as an actor and just keep on throwing yourself into the mix time and time again. If you keep throwing stuff against the wall, one day it's going to stick. That's been my philosophy so far.
[youtube https://www.youtube.com/watch?v=2p3O60fMP3Q]
HANDSOME DEVIL Is now playing in New York and Los Angeles and is also available On Demand.