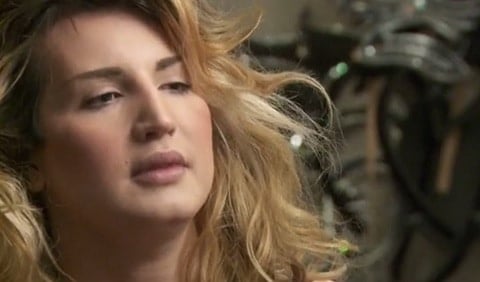 A transgender drag queen from Austin, Texas has alleged she was beaten with a hammer and raped by a man on Sunday night.
Christi Long, a transgender woman who performs as a drag queen known as Christi Foxx Paris, required 12 staples to the back of the head following the attack by a man she considered to be a friend.
please help support or share this fundraiser for Christi Foxx Paris, a trans woman survivor 💗 https://t.co/wHUHdv4tXn

— old duderonomy (@literalshipley) May 31, 2017
Speaking with KXAN, Long said:
"Just because you're turned down by a transsexual woman, does not give you reason to beat her in the back of the head with a hammer.
"I said 'no.' I pushed him off of me. I raised my voice. I got really loud and I got deep with my voice. I wanted to have a powerful voice because I wanted to scare him out of my house.
"I asked him to leave several times. He wouldn't. He wouldn't leave my house, and he told me he wouldn't leave until he was done.
"I started to get up and whenever I started to get up, he goes, 'If you get up, I'm going to smash your face in,' and he's holding that hammer."
Long said that although she fell in and out of consciousness she was somehow able to escape. "I started waking up and I started realizing all these things that just happened to me," said Long.
Long grabbed a knife in the kitchen, in case she needed to defend herself. When the man didn't follow her immediately, she realized she had to get out of the house to get away from him.
"I just ran out the door, just naked," she explained. "I was holding the knife still and then I was going to run to my neighbor's house two doors down."
But she didn't make it there. Long says she saw her attacker's vehicle still parked outside her house. She feared then that the man was going to get away.
"'I'm not going to let this happen,' she thought to herself. "I ran up to his car and I slashed his tire, and then I was like, 'he's coming. I need to hide.'"
At that point, Long says she ran to her backyard and hid behind her fence until she saw him leave. She says her attacker got away, but that doesn't change the fact that she is a survivor.
"All he's done is empowered me," said Long. "He's going to make me stop him from doing this to someone else… and that's the important thing."
Hoping for something positive to come from the experience, Long is urging other survivors of sexual crimes to report them without hesitation.
"No matter what you identify as, you need to come forward if somebody sexually assaults you. You need to contact law enforcement," she said. "Whenever you say 'no,' no means no and it should always mean no."
A police report was filed with the Austin Police Department for offenses of rape and aggravated assault. It is not yet clear is any arrests have been made.
Long's friends have set up a GoFundMe page to raise money for her medical, legal and living expenses.