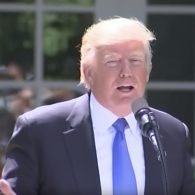 18 DAYS. Trump plans August vacation in New Jersey. "Many are protesting – some even with graffiti, according to Bedminster resident Clarissa Arbeia – calling the president's visit an added nuisance in the small suburban town."
FRACKING. Trump may undo Obama fracking rule: "The proposal from the Interior Department's Bureau of Land Management (BLM) is due to be published Tuesday in the Federal Register. The landmark 2015 regulation set standards in areas such as disclosure of fracking chemicals and integrity of well casing. It was the Obama administration's attempt to update decades-old regulations to account for the explosive growth in fracking for oil and natural gas in recent years."
CLASSIC BULLY MOVE. Sean Spicer stole mini-fridge from junior research employees.
EYE ROLL OF THE DAY. Trump gets asked if Jeff Sessions should resign.
Q: "Mr. President, should Jeff Sessions resign?"

Trump's face: pic.twitter.com/m9yV4Y0aeM

— Bradd Jaffy (@BraddJaffy) July 24, 2017
FUJIWHARA EFFECT. Tropical storms Hillary and Irwin to swirl together in Pacific. "This tango occurs when two storms get close enough for their circulations to interact, sending them pinwheeling around a fixed point between them somewhat like a meteorological version of a fidget spinner."
TENNESSEE. Judge rules that gay couples have equal parental rights: 'Four lesbian couples sued after the state passed a law that requires using the "natural and ordinary meaning" of words in state law. Gay rights groups said the requirement was a sneaky way to deny same-sex couples the legal rights and protections granted to a "husband," a "wife," a "father" or "mother." The Tennessean reports that Davidson County Chancellor Ellen Hobbs Lyle's ruling Friday dismissed the couples' lawsuit, saying they didn't prove their rights had been violated. The couples' first child is not expected until September.
CHUCK SCHUMER. Feeding meat to the opposition?
JASON CHAFFETZ. When Dems bring up Donald Jr., Repubs should bring up Chelsea Clinton.
https://www.youtube.com/watch?v=02G1JOi75VA
JENNIFER FINNEY BOYLAN. My Gay Agenda: "What I want above all, is the special right to be left alone, and to be considered half of just one more unextraordinary American couple — just as the two of us were as we sat at the bar watching the ocean and drinking our beers. You'd think that most of this would be common sense — that protecting American citizens from violence and unemployment and homelessness would be something we'd all agree upon. You'd think that respecting the privacy and humanity of some of the country's most vulnerable souls would be a common goal."
MALE MODEL MONDAY. Troy Walls. More here.
FERGUS BEELEY. Planet Earth producer has road rage meltdown on camera. "The extraordinary footage was caught by Simon Gale, 33, who was driving one of the cars involved in the incident. He claimed that Mr Beeley became enraged when a car from the inside lane attempted to pull into the middle lane and crashed with his family's car. He also claims that Beeley grabbed hold of him around the throat and "raised his fist in a threatening manner", and attempted to push his mother-in-law towards oncoming traffic."
https://www.youtube.com/watch?v=-W7BjtLil9M
SAM HEUGHAN. Shirtless workout photos!
ADAM SCHIFF. Senior Democrat on the House Intelligence Committee fires back at Trump tweet calling him "sleazy" and "biased".
With respect Mr. President, the problem is how often you watch TV, and that your comments and actions are beneath the dignity of the office. https://t.co/NvZydYbnyW

— Adam Schiff (@RepAdamSchiff) July 24, 2017
ATTACK AD. GOP Super PAC launches ad painting Dems as "radical extremists who destroy buildings, burn cars and divide America. Hollywood celebrities who are blinded by their hatred of the president."
WHAT ABOUT US. Pink prepares a comeback single.
NETFLIX TEASER OF THE DAY. Stranger Things Season 2:
https://www.youtube.com/watch?v=vgS2L7WPIO4
PROMO OF THE DAY. The Rock gets together with Siri in mini-movie.
https://www.youtube.com/watch?v=ufBLI6bB9sg
MONDAY MUSCLE. Cristiano Ronaldo and friend Jose Semedo.