https://www.youtube.com/watch?v=_GS1CvPr1eI
ANA NAVARRO ON TRUMP JR. "My God, this kid was dropped on his head as a child!"
MIKE PENCE ON TRUMP JR. EMAILS. "Not focused" on them: "The Vice President was not aware of the meeting. He is not focused on stories about the campaign, particularly stories about the time before he joined the ticket."
NICHOLAS KRISTOF. The Trumps embraced a Russian plot.
TIM KAINE. This is "potentially treason."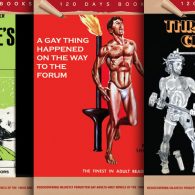 STROKE BOOKS. One publisher is saving them: "Produced quickly and cheaply by sketchy imprints that were often opened just for the purpose of releasing a few titles then dissolved even before authorities to catch up with them, these books were not easy to come by even in their heyday. In the days before triple-X cornucopia of the internet, porn consumption was hampered by both the inconvenience of finding materials through brick and mortar stores that catered to your specific tastes (largely only available in urban areas, such as New York or San Francisco) and the risk of receiving it through the mail, which was actually illegal until the Supreme Court's landmark Miller vs. California decision of 1973."
VIRAL VIDEO. Screaming foxes.
SUPER BOWL LII. Britney Spears?
UK. Bangladeshi is first gay Muslim to be married in the UK: "an openly-gay Muslim man Jahed Choudhury, 24, tied the knot with the love of his life, Sean Rogan, 19, in Walsall registry office – the first UK same-sex marriage involving a Muslim man in the country. According to Express and Star the couple have been together since 2015, and Choudhury who is a Bangladeshi, proposed to Rogan on his birthday last June."
UNITED KINGDOM. Church of England votes to explore transgender services: "The motion recognised the need for transgender people to be "welcomed and affirmed" in their parish church. Chris Newlands, the vicar of Lancaster Priory church, posed the motion as a way of the Church welcoming people who suffer from transphobia in society."
PENNSYLVANIA. Police search farm for four missing  men.
BRITISH ARMY SOLDIERS. Proposal at London Pride.
SMASH MOUTH FRONTMAN. Morrissey loves us.
SORRY NOT SORRY. Demi Lovato drops song of the summer contender…
RACE OF THE DAY. Michael Phelps vs. Great White Shark: ""I was like, 'Yeah, sure, why not? Let's see who would win a race.' It's hard for me to race something that has the speed that they have, and how fast they can turn on a dime is something that's truly incredible, especially with the size of these animals. I got in and did my best, and you guys are going to have to see what the outcome is. But I think it's just interesting more for me to learn and to teach people about what sharks can do, and learn what to do and what not to do around shark."
SCREEN TEST OF THE DAY. Kit Harington's Game of Thrones audition.
TOO HOT TUESDAY. One Eno.