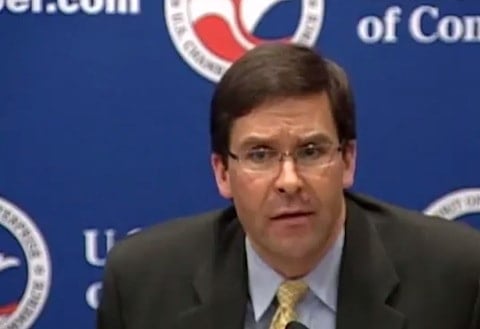 Donald Trump has announced that he plans to nominate anti-LGBT veteran and defense contractor manager Mark Esper as Secretary of the Army.
Esper is a lobbyist and vice president for government relations at defense contractor Raytheon and served as a Deputy Assistant Secretary of Defense from 2002 to 2004.
According to CBS, he has worked on national security issues for a number of senators and on the Senate Foreign Relations Committee and House Armed Services Committee.
However, GLAAD reports that Esper was also the former chair of the National Security Policy subcommittee for the 2008 Republican Party Platform, which specifically targeted LGBT service members. Additionally, he has worked with anti-LGBT lawmakers including Senator Bill Frist and served as Chief of Staff and Assistant to the President of the Heritage Foundation.
Raytheon lobbyist Mark Esper is 45's nominee for Secretary of the Army. Conflict of interest anyone? Anyone? https://t.co/NK32YNQqeK

— Shelby Kent-Stewart ™ (@ShelbyKStewart) July 20, 2017
This likely nomination comes after Trump's previous choice Tennessee State Senator Mark Green withdrew from consideration after after he said in a radio interview that transgender people are "evil" and must be "crushed".
Listen to Mark Green on transgender people below.
(Image via YouTube)