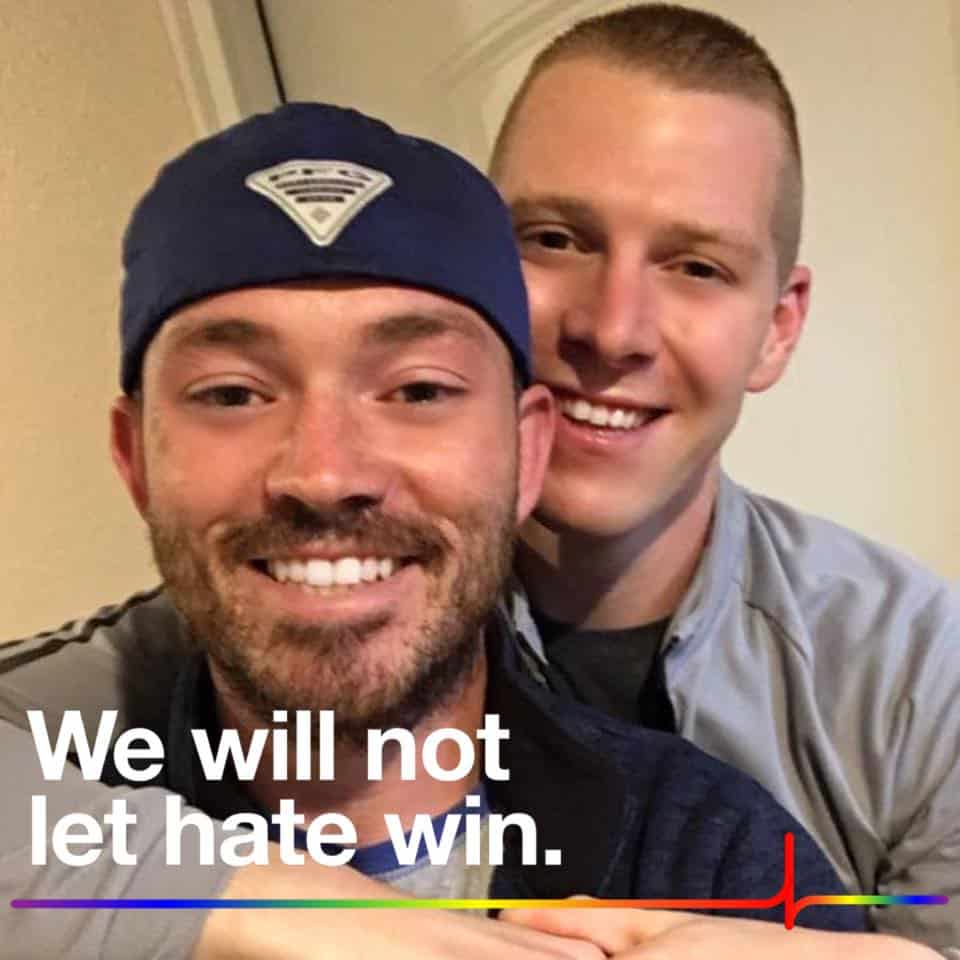 Matthew Ryan Hunt , a gay school board member at Kearney High School, which removed two gay students' quotes about coming out of the closet from the school yearbook because they were potentially "offensive", blasted the move in a Facebook post.
Wrote student Joey Slivinski in his quote: "Of course I dress well. I didn't spend all that time in the closet for nothing."
Student Thomas Swartz had a similar sentiment in his quote: "If Harry Potter taught us anything, it's that no one should have to live in the closet."
The school district later apologized but the damage had already been done.
Wrote Hunt, in part:
To our district and community:
I would first like to state that I'm making this statement as a board member and elected official, not on behalf of the board or school district. In the past 24 hours I've received hundreds of phone calls, text and Facebook messages, and private messages from Kearney parents and students, both current students and graduates, regarding the issue of the yearbook quotes being removed. I've had the opportunity to speak with the two students involved, Joey Slivinski and Thomas Swartz, and their parents. I'm happy that the district has decided to publicly apologize to the students, but this issue goes much deeper than that.
None of my fellow board members or district administrators involved in this incident knows what it's like to be openly gay in such a small town like Kearney. None of them know the sacrifices made and the courage shown by these two individuals to come out as gay in high school. They were courageous enough to be themselves and stand tall, which is something I couldn't do in 2009 when I attended Kearney. When I spoke to both of these young men, I told them I would try to get to the bottom of why this happened. I applaud the principal for calling their parents and speaking with me as well. I told him about my phone conversations with several community members and even some of his students who are demanding answers as to why this happened. He was able to tell me the process and how these quotes would be evaluated, which I greatly appreciated. I'm pleased to hear that the district's intent was to keep students safe, however, we didn't fulfill that promise and we didn't protect these two young men.
The district's intent was to remove potentially offensive quotes and instead they offended the LGBTQ community in our community and in our schools. They also offended these young men's classmates and allies who support the quotes given by Joey and Thomas. The given quotes represent these young men and express to their classmates who they are and what they represent. We've spoken about how Kearney has progressed since I was elected in April. We've seen our community elect its first gay representative. Having to make a public statement over the issue of homosexuality and quotes in a yearbook is not what I thought I'd need to do in this role, but I will continue to speak up to the board and district when I see something we can do better.
I was chosen by this community to be the voice on this subject and to reach out to the district to find out why this happened. I know we can't put these quotes back into already published yearbooks, which is unfortunate and we'll have to live with that for a long time. It's not easy to admit that the district made a significant mistake such as this. However, I represent the people who elected me and I have a voice that matters as well. I'm a gay man who happens to be newly elected to the Kearney School Board. I don't hide who I am or what I stand for. This issue came to me from the community and from these two young men. I am here to publicly say that I support their quotes, along with many community members, and feel ashamed that they weren't given the same respect as other students. They had no warning that their quotes would be removed. They will forever look at a blank space under their photograph that should have been filled with something meaningful that expressed themselves as human beings. I fully support Joey and Thomas and the quotes they submitted for their yearbook. If a quote about Harry Potter or fashion represents them as individuals, then I don't see why we wouldn't allow these to be published in the yearbook. The quotes are inspiring and give us a glimpse into their lives navigating through high school as young gay men finding their place in the world.
In recent years we've allowed quotes such as:
"Girl, you're thicker than oatmeal." – 2016
"I'll steal your girlfriend." – 2016
"It's not that I don't like you… oh wait, yes, yes its true." – 2017
"I would have voted for Trump because I don't want a girl President, I just don't think it's a good idea." – 2017
"It's not called being gay, it's called being FABULUS." – 2016
I see no reason why Thomas and Joey's quotes weren't published. I will end my statement by asking the district where we go from here and how we can ensure that we always treat every child with fairness and respect. Kearney has always been my home, and the home of Joey and Thomas. I've faced criticism and overcome it. These young men are just starting their adult lives and I applaud them for speaking up and bringing attention to this issue. Social media is a powerful tool for young voices. I thank the district for their letter to parents, but this is bigger than that. These young men want the district to know that the community is upset and disappointed. I speak for myself when I say that I want the district to pay closer attention in the future and not let something like this happen again. This was preventable with communication and respect. Let's all work to ensure that we handle these situations better. We should celebrate the diversity among our students and show them that we care about each of them and welcome their self-expression. I was once these young men and someone who "dressed well, I didn't spend all that time in the closet for nothing" and believed "if Happy Potter taught us anything it was no one deserves to live in the closet."
These men won't be silenced and I urge them to keep fighting for their rights, just as my Fiancé, Justin, and I will continue to do.
Read Hunt's full statement: