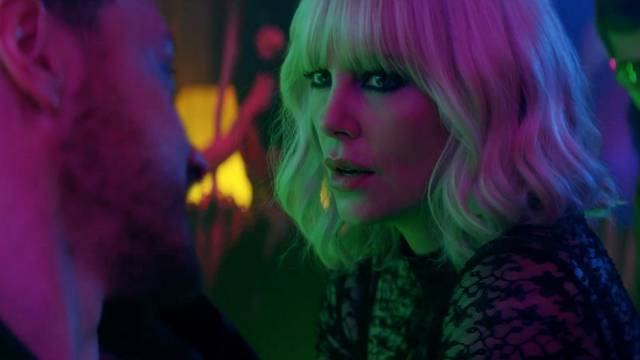 It's a special 'Sister's Are Doin' It For Themselves' edition of the movie column with two female-driven hits.
Have you caught GIRLS TRIP yet? I was one week late to the party after its hit opening weekend. When we looked around the theater this weekend my best friend was all "it's 80% women of color and 20% gay men!" Truth! And perfect as target audiences go for an urban female comedy called Girls Trip. The crowd was boisterous, laughing their asses off throughout but also visibly feeling the 90s hiphop soundtrack and audibly praising the "message" moments in the movie.
The night before I saw ATOMIC BLONDE and though I didn't see anyone dancing, I was dancing on the inside with its killer 1980s new wave soundtrack. Nobody talked back to the screen during Atomic Blonde but if they had you would have definitely heard several "YaaaassQueen!"s since Charlize Theron absolutely slays the role, reminding us that she's always been a fierce bitch and that did not begin or end with Mad Max Fury Road. I did not see a gaggle of gays in the crowd for Atomic Blonde so you've all failed me. Get yourself to both movies!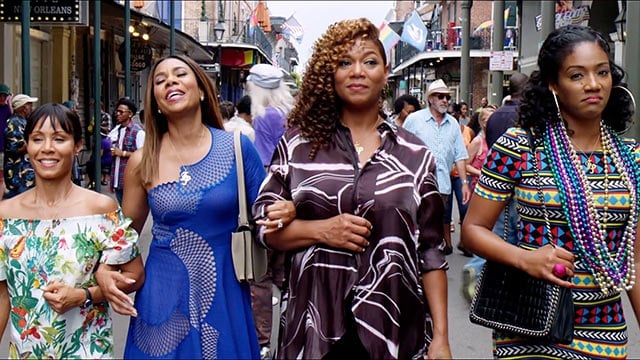 Girls Trip, if you've haven't yet heard, is about a group of college friends from the 90s who called themselves "The Flossy Posse" reuniting 20 years later for a free trip to New Orleans courtesy of their Queen Bee (Regina Hall) who the movie tells us is the second coming of Oprah Winfrey — she's a self-help icon and about to become very rich by signing a new TV show deal. Along for the ride are her estranged bestie (Queen Latifah, a gossip blogger), the uptight 'mom' of the group (Jada Pinkett Smith), and the randy party girl (Tiffany Haddish in a star-making crude comic bullseye — she runs away with the whole movie).
If you're thinking a riff on that Sex and the City plot where they all got a free trip to Saudi Arabia because of Carrie, you'd be somewhat correct, but this movie is much funnier and no rip-off. Besides, it's been mandatory since at least the Golden Girls that when there are groups of four women portraying best friends, the dynamic always has to include a center of attention, a judgy friend, a thirsty party girl, and the naive prude. It's the law!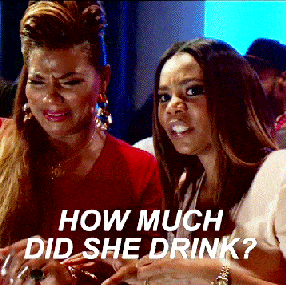 One of the movie's best jokes comes early on, when Regina Hall has to dress down her white girl business manager who keeps trying to be down with the Posse and awkwardly tosses off black girl lingo like "turnt" and "byegurl" and "#blackgirlmagic" . Regina cautions her to avoid using any phrase she had to look up on Urban Dictionary. I laughed (too loudly) and reminded myself not to look up "Flossy" from that site when I got home from the theater.
Girls Trip isn't a perfect movie — it's kind of sloppily made in spots and like most comedies lately at 15 minutes too long but it's hard to care about flaws when a movie is this much fun and the friendships this engaging. Not every joke works (there's one raunchy joke about blowjobs that is hilarious the first time but lands with a thud in its reprise) but the ratio of big laughs to jokes is so high that it's an ideal night-out-with-the-girls-or-gays movie. Bonus points for the hot man-candy (Kofi Siriboe, Larenz Tate, Mike Colter) and fun costumes.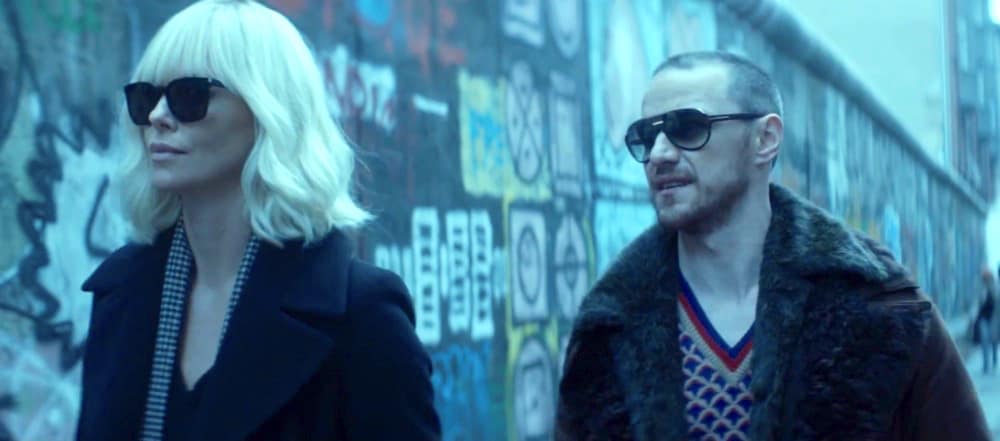 Meanwhile over in Berlin in the late '80s before Mr Gorbachev tore down that wall, we see a much different kind of movie celebrating powerful women. Or woman, singular, in the case of Atomic Blonde. Charlize Theron plays the British spy Lorraine Broughton who we first see completely naked in a bathtub filled with ice. This image is so potent and the music so 80s that I kept thinking of a song that's not on the soundtrack from General Public "so hot you're cool… 🎶 so cool you're hot" That's perfect description of Charlize Theron's erotically icy screen persona. (She's so perfect for this movie I'm thirsty for a sequel already.)
Dangerously sexy Lorraine has been sent to Berlin to clean up a mess that involves another dangerously sexy spy (James McAvoy, fun), a dangerously sexy Russian (Danish actor Roland Møller, imposing), a dangerously sexy watchmaker (German star Til Schweiger, hunky), a dangerously sexy Frenchwoman (Sofia Boutella, very-watchable), and a top secret list containing the real names of every spy. They'll all be targets if the list gets out.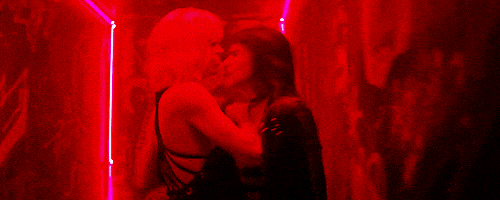 If you feel like you've seen that plot before in other spy movies, you definitely have! But plot isn't everything. In Girls Trip it's just an excuse to hang great jokes and fun actress chemistry on. In Atomic Blonde the plot is mere pretense for awesome set pieces that are half fashion ad (Charlize owns the runway in her 80s black and white costumes, fierce footwear, platinum tresses), half furious action (Charlize takes out several men in one super long unbroken shot that is just masterfully executed) half straight-boy fan service (Charlize gets naked and gets it on with another hot lady) and half espionage thriller. That's too many halves but if you're trying to check the math of this artfully-crafted nonsense, you're watching it wrong.