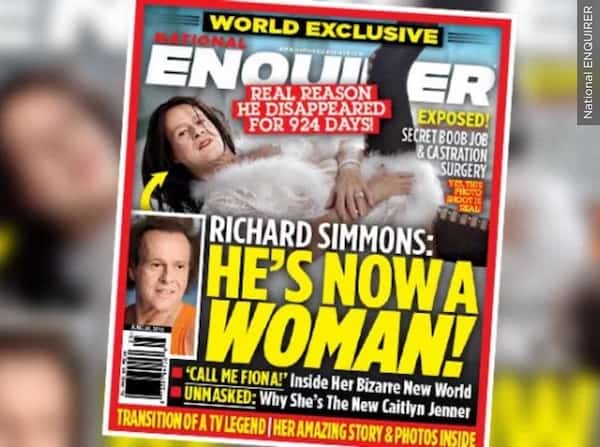 Richard Simmons's attempts to sue the National Enquirer and Radar Online for reporting that he was transitioning into a woman have been quashed by a judge, Variety reports:
Simmons sued the publications in May over a story alleging that he was in the process of becoming a woman. While affirming his support for trans people, Simmons has vehemently rejected the claim.
But in his tentative ruling, Judge Gregory Keosian ruled that being misidentified as transgender does not inherently expose someone to "hatred, contempt, ridicule or obloquy," and therefore does not rise to the level of defamation.
"While, as a practical matter, the characteristic may be held in contempt by a portion of the population, the court will not validate those prejudices by legally recognizing them," Keosian ruled.
The ruling appears to be the first to address the question of whether being labeled as transgender is sufficiently harmful to one's reputation to be libelous.
The Enquirer had published a quote from an alleged friend of Simmons along with a photo:  "[This is] not just Richard Simmons in drag. This is Richard dressed as a softly spoken woman named Fiona!"
A final ruling is expected in the coming days.