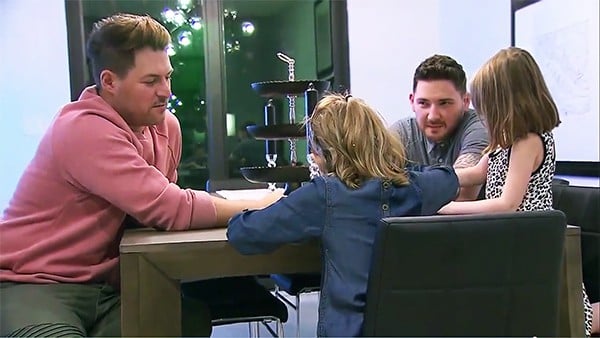 Actress Annalynne McCord of Nip/Tuck and reboots 90210 and Dallas used her platform on social media over the weekend to call attention to a troubling incident her friends, a gay couple, experienced while traveling with their daughters on Southwest Airlines recently.
Jacob Lapp and David Forstadt and their daughters, ages 6 and 7, traveled to New York recently. While returning to Fort Lauderdale last week, they were denied access to family boarding by a Southwest agent despite making themselves known as a family.
McCord has since demanded an explanation from Southwest in solidarity, calling the airline's actions a "form of bullying" in an emotional open letter:
It was their first flight ever and they were so excited to join their Daddies on a family trip. Only your employees made it clear that these beautiful little girls and their fathers were not in fact "family." And when it came time for "Family Boarding" these little girls . . . were not allowed to board with the other families and had to watch as their fathers were told that they didn't count as family . . . So, I would just like to ask you 'why'? Why would your company representatives (the desk agents boarding the plane on behalf of your corporation) believe that it is okay to reject these little girls' love for their fathers, making them feel that they are not good enough? That their family should be left out? Is that not a form of bullying?
#OPENLETTER to @southwestair
Dear Southwest Airlines,

Have you ever felt bullied? Have you ever been picked on?… https://t.co/gKSsJ4b3Jc pic.twitter.com/7TMEN9jp8P

— AnnaLynne McCord (@IAMannalynnemcc) August 26, 2017
Lapp and Forstadt had also told their story to local news station WPLG:
The family had a layover in Orlando Monday. A gate agent refused to allow them to board the plane during family boarding time.
The couple said that to add to their inconvenience, the Southwest Airlines employee was rude. Without a clear explanation, she said, "No! There is categories for a reason. Not you!" and "No! Move!"
Since the airline offers family boarding, Lapp and Forstadt believe the Southwest Airlines employee left them waiting because she discriminated against them.
"We are a family and we want to be represented as a family just like everyone else," Forstadt said.
Eventually, the Southwest Airlines employee allowed the family of four to board the flight and take their seats. Their twin girls were upset. The airline issued a statement apologizing for the "less than positive travel experience."
Southwest's full statement reads as follows, according to People:
"We don't have any existing reports associated with the Customers' travel experience but we have contacted the Employees involved for an internal review of what happened," the airline spokesperson said. "Our Customer Care Team reached out directly to the Customer and has not received a response. Our Employees work to carry out our Boarding policy for families traveling together, while also maintaining boarding priorities for all Customers. This particular flight departed with 66 passengers onboard, out of 175 seats offered on this aircraft type – leaving more than 100 open seats available.
"We welcome onboard more than 115 million Customers each year and Southwest neither condones nor tolerates discrimination of any kind. A cursory view of our workforce, and our expansive, multi-cultural Customer base whose loyalism brings them back to Southwest is an endorsement and reliable indicator that we exalt, appreciate and celebrate diversity. We regret any less than positive travel experience and look forward to working directly with these Customers to ensure their concerns are heard and addressed."
However, Lapp says the airline is wrong to say that he and his family did not make their concerns known directly:
https://twitter.com/Jakelapp13/status/900067227982057473
https://twitter.com/Jakelapp13/status/901655296183029760
Southwest Airlines received criticism for a similar situation just a few months ago, when Grant Morse, who is married to another man, and his family were also denied access to family boarding in May.