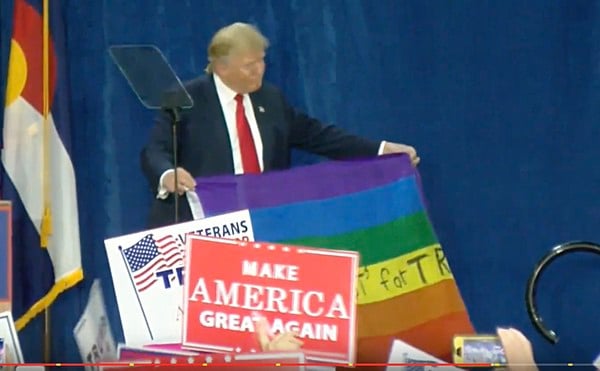 Attorneys from the National Center for Lesbian Rights (NCLR) and GLBTQ Legal Advocates & Defenders (GLAD) filed a federal lawsuit on Wednesday in the U.S. District Court for the District of Columbia challenging Donald Trump's directive to reinstate a ban on transgender people serving in the military on behalf of five active duty servicemembers.
The plaintiffs have a combined 60 years of military service, said GLAD and NCLR in a press release:
"Last year, the Department of Defense announced that transgender people could serve openly," said one plaintiff.  "I was very relieved and came out as transgender to my commanding officers, who were supportive. My experience has been positive and I am prouder than ever to continue to serve. I am married and have three children, and the military has been my life. But now, I'm worried about my family's future."
In June 2016, after comprehensive review of the issue by military experts and others, the Department of Defense announced that transgender people could serve openly in all branches of the U.S. military. The Department concluded that the ban served no legitimate purpose and that open service by transgender people would serve the military's best interests.  Since that time, thousands of transgender service members have begun to serve openly.
"Trump's directive to exclude transgender people from military service has created a tidal wave of harms that have already been felt throughout our armed services. Transgender service members have been blindsided by this shift and are scrambling to deal with what it means for their futures and their families," said Shannon Minter, a transgender legal expert and NCLR Legal Director. "The President's mistreatment of these dedicated troops will serve only to weaken and demoralize our armed forces."
"The Commander in Chief has said that transgender service members — people who have served our nation with honor and distinction — are no longer welcome to serve. This unjustifiable reversal of policy is devastating to these soldiers and harmful to our country.  These plaintiffs put their lives on the line every day for all of us. We can't afford to lose a single one of them," said Jennifer Levi, Director of GLAD's Transgender Rights Project.
Plaintiffs serve in the Air Force, the Coast Guard, and the Army. Their years of service range from three years to two decades, and include tours in Iraq and Afghanistan.  As a result of the President's statements, they face dramatic uncertainty about their futures including the potential loss of their professions, livelihoods, and post-military and retirement benefits.
Read the complaint HERE.
Meanwhile, a new report co-authored by current and retired professors at the Naval Postgraduate School in Monterey, comes to the conclusion that the ban would cost $960 million to implement:
The report was released in response to the recent announcement by President Trump, on Twitter, that the military would no longer "allow Transgender individuals to serve in any capacity in the U.S. Military," citing what the president called the "tremendous medical costs" of providing adequate care.
But the new report shows that discharging and replacing the estimated 12,800 transgender service members who are already serving would cost over 100 times more than providing medically necessary health care to the military's transgender troops. "Fully implementing President Trump's ban would cost $960 million in pursuit of savings of $8.4 million per year," the report concludes. The $8.4 million figure is the upper-bound estimate calculated by the RAND Corporation for providing health care to transgender troops each year.
"If President Trump is truly concerned about the financial costs of transgender service,"said Aaron Belkin, director of the Palm Center and a co-author of the new report, "his announced ban has it exactly backwards. American taxpayers should ask the president, who is proud of his business savvy, why he's spending a dollar to buy a dime."
The new report uses a "replacement-cost method" to calculate the overall cost of ousting transgender troops. Since the military has to recruit and train a replacement for each service member discharged, the authors explain, the total price of a ban was derived by multiplying the number of service members who will be discharged by the cost of recruiting and training a replacement.
Read the report HERE.