NEW MERCH. Trump Tower gift shop. 'Two NYC-based artists secretly slipped some items inside the merchandising outpost of the Trump Tower's lower lobby. Among them: A Trump-emblazoned KKK hood "for fine people," sealed packages of pee-proof rubber sheets, and postcards featuring the 45th President of the United States, Vladimir Putin.'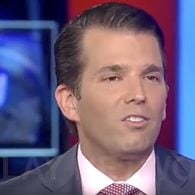 TESTIMONY. Donald Jr. to testify before Senate Judiciary panel: 'The committee would not divulge the exact date, but another source familiar with the matter said the testimony would likely occur in the "next few weeks."'
MALEFICENT. Lady Gaga's new watch ad.
TRIANGULATION. Trump making preemptive break from congressional allies: "Trump's advisers contend that the strategy will inoculate him from blame if Republicans lose big-time next year. But what they don't seem to take into account is that constantly blaming GOP leaders for their failures could depress conservative turnout next year and ensure a Democratic takeover, at least in the House, which current election ratings place within closer reach of Democratic control than the Senate. And that scenario presents far greater peril for Trump than mere blame for electoral losses. A Democratic House majority would have the power to move on impeachment proceedings."
EMPATHETIC SIDE. Trump doesn't have one.
CIVIL WAR. Trump's supporters are promising it if Trump is impeached. "The Christians will finally come out of the shadows, because we're going to be shut up permanently if we're not careful, and God says that faith without works is death, we have to do things."
https://www.youtube.com/watch?v=zxQ0nZ7k3Vc
RACHEL MADDOW. #1 in cable news in August: "MSNBC host Rachel Maddow had the most-watched show in cable news in August, ending the month with 2.783 million total viewers, according to data released by Nielsen Media Research. It was Maddow's second month in a row as No. 1. Maddow narrowly beat Fox News Channel's Sean Hannity, who had 2.679 million total viewers. The remaining shows in the top five for the month were Fox News' Tucker Carlson (2.483 million), MSNBC's Lawrence O'Donnell (2.352 million) and Fox News' The Five (2.351 million). Maddow was also first among adults 25-54, the critical demographic to advertisers."
MTV VMAs. Who invited alt-right transphobe Milo Yiannopoulos?
PATENTLY UNETHICAL. Peter Thiel backs offshore testing of herpes vaccine: 'The risks are real. Experimental trials with live viruses could lead to infection if not handled properly or produce side effects in those already infected.'
SAD ANNIVERSARY. Princes William and Harry pay tribute to their mother Diana.
NO LONGER SORRY. Kathy Griffin speaks out.
. @KathyGriffin: "I'm no longer sorry. The whole outrage was BS. The whole thing got so blown out of proportion." pic.twitter.com/5PxNrQ2VSk

— Dr. Jeffrey Guterman (@JeffreyGuterman) August 29, 2017
TEASER OF THE DAY. The Cyrus family's Carpool Karaoke episode looks bonkers.
MATT DAMON. At the Venice Film Festival.
INTRODUCTION OF THE DAY. Kermit the Frog's new voice.
HUMP DAY HOTTIE. Indar Smith.