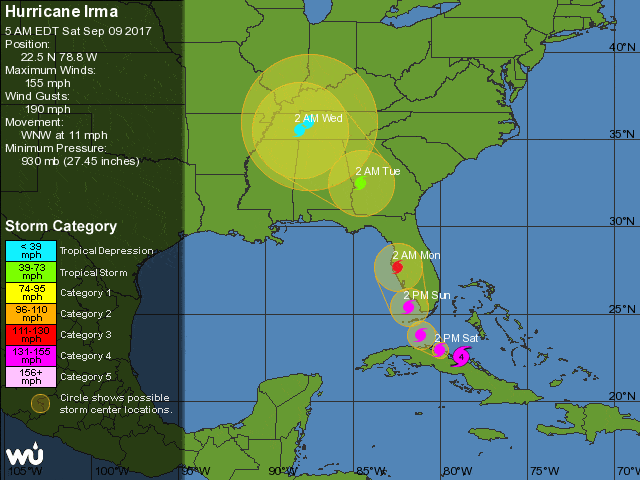 Hurricane Irma lost strength overnight but is expected to strengthen again as it leaves Cuba and heads toward South Florida on Saturday.
View a live webcam of Key West HERE.
At least 20 people were confirmed dead by Friday night, when Irma made landfall in Cuba as a Category 5, lashing the island's northern coast with a direct hit.
The hurricane was downgraded to Category 4 around 5 a.m. but was expected to strengthen before reaching Florida. About 5.6 million people — more than a quarter of the state's population — have been ordered to leave their homes.
"If you have been ordered to evacuate, you need to leave now," Gov. Rick Scott said at a news conference Friday evening. "Not tonight, not in an hour, now."
Key West and the lower Keys are directly in the storm's path. The National Weather Service has warned that nowhere in the Keys will be safe.
***THIS IS AS REAL AS IT GETS***

***NOWHERE IN THE FLORIDA KEYS WILL BE SAFE***

***YOU STILL HAVE TIME TO EVACUATE***

Please RT. #Irma pic.twitter.com/VWLMEDWoUs

— NWS Key West (@NWSKeyWest) September 8, 2017
Meanwhile, preparations are being made in the outermost Key, which is home to a large LGBTQ community.
https://twitter.com/producerken/status/906144798888873984
Meteorologists are staying at the NWS office in Key West through the hurricane. The work of these men/women is very much appreciated by all. https://t.co/QbHdpmgE6h

— James Spann (@spann) September 9, 2017
Mayor of Key West says as many as 25% of his residents have chosen to ignore mandatory evacuation order. All were offered resouces to leave.

— Facts Do Matter (@WilDonnelly) September 8, 2017
Key West is a ghost town. #keywest #irma #hurricaneirma pic.twitter.com/w276GX4Iuo

— Booze Bandage (@BoozeBandage) September 7, 2017
Highest wind gust at Key West so far: 66 mph #Irma https://t.co/0AcKUeCCZP

— Hurricane Tracker App (@hurrtrackerapp) September 9, 2017
Our thoughts are with our friends in Key West and the rest of you in the Conch Republic and South Florida affected by this storm. Please stay safe.