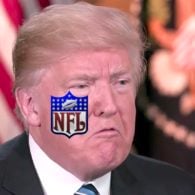 TRUMP. NFL owners fear their players: "I have so many friends that are owners. And They're in a box. I mean, I've spoken to a couple of them. They say, 'we are in a situation where we have to do something,'" Trump said in an interview with Fox News's "Fox & Friends" that was taped Wednesday and aired Thursday morning. "I think they're afraid of their players, you want to know the truth, and I think it's disgraceful. And they've got to be tough and they've got to be smart."
BLACK LIVES MATTER. Federal judge rules the group can't be sued because it's a social movement, not an entity. 'The judge also concluded that the officer's own claims demonstrated that Mckesson "solely engaged in protected speech" at the July 9, 2016, demonstration, which followed the fatal shooting of Alton Sterling, a black man, by a white Baton Rouge police officer.'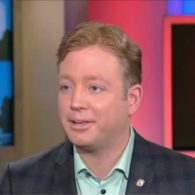 LOG CABIN REPUBLICANS. Gay GOP group holds event at Trump Hotel, doesn't mention Trump: "Keynoting the Log Cabin Republican dinner Wednesday was 2016 Republican presidential candidate Carly Fiorina, who delivered a heavily autobiographical speech on moving from being a secretary to CEO that sought to inspire leadership goals among those at the dinner.
THE VIEW. Its newest conservative co-host is Meghan McCain.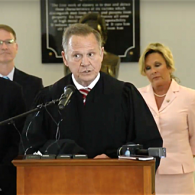 ROY MOORE. Senate Republicans claim to know nothing about his controversial remarks: 'The day after Moore handily defeated incumbent GOP Sen. Luther Strange — who was backed by both McConnell and President Donald Trump — his potential future Senate GOP colleagues insist they're not aware of the years of inflammatory comments and actions by the Alabama jurist. And they're not going to "pre-judge" Moore at all because, well, he'll just be one of 100 senators and they're all equal in the World's Greatest Deliberative Body.
JULIA LOUIS-DREYFUS. The Veep actress says she has breast cancer.
Just when you thought… pic.twitter.com/SbtYChwiEj

— Julia Louis-Dreyfus (@OfficialJLD) September 28, 2017
GARY COHN. Multi-millionaire White House economic advisor insists wealthy aren't getting a tax cut in Trump's plan: "When we've looked at the tax plan, and we've looked [at] what it does for Americans, we are very confident that Americans are getting a great deal here. We have also said that wealthy Americans are not getting a tax cut," Cohn said Thursday on ABC's "Good Morning America." "We have designed a tax cut that is stimulus for the economy, where we are giving tax cuts to middle- and lower-income Americans. We want everyday, hardworking Americans to have more money in their paycheck."
OOPS. Evidence of the Trump/Russia misinformation network at work.
That awkward moment when the Russian government forgets to turn off location services on their disinformation network Twitter accounts. pic.twitter.com/SqV2eArN7g

— Common Defense (@commondefense) September 27, 2017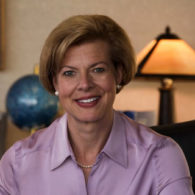 TAMMY BALDWIN. U.S. Senator from Wisconsin blocked removal of two critical offices for ensuring LGBTI rights: "This March, President Trump ordered a reorganization of the State Department and the United States Agency of International Development (USAID), to include the elimination or downgrade of certain critical Special Envoy offices and human rights programs. Senator Baldwin's amendment to the Fiscal Year 2018 State Department funding bill prevented the elimination of the Office of the Special Envoy for the Human Rights of LGBTI Persons within the State Department, which facilities high-level, bilateral engagement on LGBTI rights, and the LGBTI Portfolio within USAID, which coordinates and leads USAID's efforts to support inclusive, culturally-specific development efforts that respect and further the human rights of LGBTI people. Both programs have been restored to current funding levels."
TAIWAN. Premier William Lai pledges to see marriage equality through: '"The Executive Yuan has followed the Council of Grand Justices' ruling to seek the broadest consensus in an effort to put forward a concrete and workable marriage equality bill," Lai said in his first administrative report to the legislature. The drive to legalize same-sex marriage was listed under the government's goal to build a "just society," one of its five major administrative goals.'
AARON RODGERS. Green Bay Packer takes on those opposed to anthem protest.
KATE MCKINNON. SNL's best player hits the cover of Vanity Fair.
On Vanity Fair's November cover: how @nbcSNL's Kate McKinnon became comedy's brightest star https://t.co/fyxLopj001 pic.twitter.com/JXBhIFPRPJ

— VANITY FAIR (@VanityFair) September 28, 2017
13 REASONS WHY. Actor Tommy Dorfman talks about being openly gay.
ROYAL STEAL. Someone at the Invictus Games wants Prince Harry's popcorn.
INSECT TV. A praying mantis sees something he likes.
THIRSTY THURSDAY. Popeye.