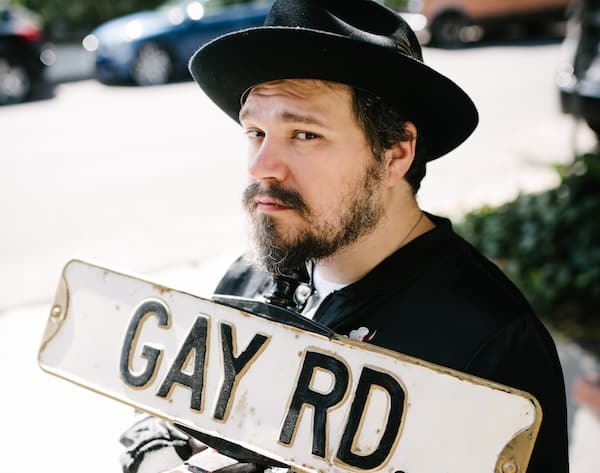 Whether you pray to a god, the universe or Judy Herself, praise whomever you choose that we've got someone like Justin Elizabeth Sayre creating art today.
The writer, performer and cabaret star was a writer on CBS's Two Broke Girls, authored children's books (Husky and Pretty) and appeared on HBO's The Comeback, but he's probably best known for his long-running hit show The Meeting* of the International Order of Sodomites.
A clip for the show in which Sayre adapts the gay Hanky Code for a new generation became a viral hit in 2014:
Now, with a wit as sharp as his eye for bold accessories, Sayre is back with a brand new show opening in New York City this weekend. Titled I'm Gorgeous Inside, the show is a loving tribute to all the bad girls that inspired Sayre throughout the years.
This is not just your typical blind diva worship. Sayre is razor sharp, and he examines the relationship between queer people and strong, sexual female archetypes with equal amounts of intellect and humor. He's got plenty to say about the inspiration behind the show, especially at a time when hyper-masculinity, misogyny and heteronormativity are surging. (Don't believe me? I got called a "pathetic, self-loathing effeminate wretch" for loving Michelle Pfeiffer's Catwoman in the comments on this very website.)
No matter how you personally identify, it's hard not to admire Sayre's passion and the audacity of I'm Gorgeous to celebrate him and all the bad girls around the world. In the face of stifling sameness, Sayre is bold enough to give voice to the slutty, the strange and the sublime just when we need it most.
In the name of Liza, Dolly and RuPaul, amen.
Read what he had to say about the show below.
What inspired the new show?
I was noticing that I was talking about my admiration for kind of tough girls when I was growing up quite a bit recently. These kind of girls that were not only social outliers, but also kind of sexual outliers. When I was initially thinking, I would say 'I loved slutty girls in high school.' As I got into it, I was like no, it wasn't that they were promiscuous or whatever. It was that they were standing outside the social norms, and they were saying this is who I am. It was early evidence of what real self-possession looked like.
I thought 'That's what this show is about!' It's about celebrating these women in an age where we're not totally celebrating these women, but also we're celebrating femme sexuality and people who are identifying femme from all across the board. So it's not just women, it's anybody who kind of falls within that feminine spectrum.
That sounds very highfalutin for a lot of jokes. It didn't start off as a political show by any means, but everything we're being assaulted with in the media right now is this kind of enormous anti-women feeling and this out and out misogyny from the White House, and I think we need to start at a place of just celebrating what it is to be a bad girl in the world today. Because bad girls get shit done. After all these years, I want to be a bad girl. Those are the girls I want to hang out with.
Who were some of your earliest bad girl influences?
I definitely loved bad girls in movies. I watched a lot of old movies growing up because I was around with my grandmothers and that was their kind of entryway into something to talk about. Seeing Lauren Bacall in To Have and Have Not, that's a bad girl. Then also seeing people like Bette Davis in Jezebel or Susan Hayward in I Want to Live. These were early kind of archetypes of what a bad girl was. As you grow up, seeing things like Grease for the first time, and, like I think most people, I loved the Pink Ladies more than I ever loved Sandy. Let's have a movie about these girls! I just want to know what Frenchy eats for lunch!
In a way, the transformation of Sandy as a character is not so much that she becomes a bad girl to satisfy him or satisfy John Travolta's image. She becomes a bad girl because she steps into her own power. For the first time she's an equal, she's not an object anymore. The Pink Ladies from the beginning were a rival gang of those guys. It was always about that feeling about being on the same playing field.
I think for a lot of queer people, and especially for a lot of queer people that femme-identify or fall more on the femme spectrum, there's a lot of contemporary things in gay culture that say feminine is bad. Certainly within this new kind of world we're living in where everybody wants to get married and be like everybody else, femme is looked upon not as progressive, but regressive. It's looked on as camp. It's dismissed rather than seeing how powerful it is to step into that space.
The thing I love not only about myself but the thing I love about my friends is they are too gay to function. They can't work jobs! They have to be gay all the time! But with that comes sense of power and such a sense of ownership. Those are the brave people in the community, the people that are putting it out there all the time, the people that are 'hey gurl'-ing down the street. Those are the people that I admire. They never cover it up. They have to be these things.
I think as the show sort of progressed into not just a celebration of who these female archetypes were but really into how that connected with me, that was really the message that came out. The thing about slutty girls is that you're a slutty girl all the time. You don't show up to church in a good outfit and forget it. You wear that as part of who you are, that you stepped outside the boundaries and decided that you want something different. I think for a lot of queer people that's what I've wanted to do with my life, and I think that's what the crossover is with these two groups of people that historically have often been friends.
What about this moment in time makes you feel particularly urgent about this show?
There's always been a conservative streak through gay life, but the thing that happened in the 2016 election and this ultimate dismissal from the public, which was playing transgender people for making bathrooms an issue and blaming the gay community for being too sensitive, it all felt part and parcel part of this misogyny. Small issues don't matter, we have to be tough, we have to be overly-masculine. A lot of gay people, unfortunately, fell for that, because for a lot of middle class, white gay men, they were handed the keys to the castle in America growing up. Then all of a sudden at whatever age they said 'By the way, I like guys,' and those keys were taken away. And they don't like it. They get real pissed off about it. There is this kind of growing thing where we're just as good, we're just as good, and it's just like why are we still fighting that fight? I don't want to be just as good, I want to be myself. I want to be better!
This show not only came out of that feeling of addressing these things in a real, honest way, but addressing them through the lens of an archetype that gets dismissed as funny or we're making fun of them, but I'm never going to make fun of these women because these women taught me the most about life.
At the end of the day, when a Bette Davis movie came out in the '40s and '50s and gay guys went to go see them, they were rooting for her. They weren't making fun of her. They loved that she was big and over-the-top. They wanted her to get the guy or succeed in some way, because they understand what it was like to be told by the world that you could not get what you wanted and still fighting to get it, still fighting to have some semblance of a life. It gets passed down. Ask five queens in a bar if they have a Bette Davis impression, someone's gonna have one.
At the core of it is that these women shared this journey with us, and I think that's what the show's kind of about it. You could laugh at it, but at the end of the day we share so much together. We've been an important part of each other's evolution, but that means we also have to share the burdens that are ahead of us together too. So in a way, it is kind of about intersectionality between strong women and gay men and a lot of jokes! It sounds so serious! It sounds so highfalutin you'd think I was writing a thesis. I'm just writing jokes.
Many of the touchstones you've mentioned here, like Lauren Bacall or Bette Davis, are classic gay icons. Are there any contemporary bad girls you look to for inspiration?
We do a song by Ani DiFranco, we talk about Blondie, certainly people like Grace Jones. I think in a weird way, and I don't know if I'm the only one that thinks this, but I am very intrigued by what Lana Del Rey is doing. That's probably the most interesting to me. I find Lady Gaga to be a little too manufactured.  Whether you like her or lump her, I think Madonna was always original. She was coming out of what felt like a more organic place than what I see of Lady Gaga, but it is something that I continually think about. I love people like Lizzo, she's this voluptuous black woman and she is fantastic. For me, that's like, get her. That's who I want to follow.
If you were creating a gay starter pack for young gays just coming out, what are the must-haves you'd put in?
Female Trouble, definitely. I would either go City of Night by John Rechy or Dancer From the Dance by Andrew Holleran. I would have three different kinds of lube, only because it takes you too long in life to settle into the lube that's going to be your friends. I think if you had a starter pack with three different kinds, you could sit with these for a little while, see what work for you. A DVD of The Golden Girls, just because you're going to talk about it at least once. And then I'm tough on music, maybe Judy at Carnegie Hall, but that seems a little too old fashioned. I'd put in a CD of Grace Jones. This could take you down some roads, kid.
I'm Gorgeous Inside runs Sept. 22-24 at Joe's Pub in New York City. Tickets are available here.