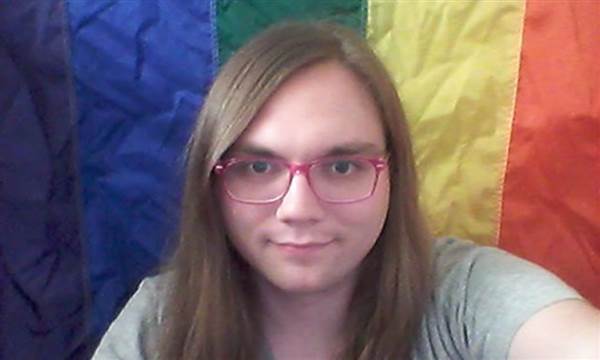 Scout Schultz, a 21-year-old fourth-year engineering student at Georgia Tech, was shot and killed by police on Saturday night after brandishing a knife and telling officers to shoot.
The school identified the victim as Scout Schultz, 21, a fourth-year engineering student from Lilburn, Georgia, who police said was armed with a knife. Schultz, president of Georgia Tech's Pride Alliance, identified as non-binary and intersex and preferred to be referred to with they/them gender pronouns, according to the alliance's website.
Police made contact with Schultz outside a campus parking garage after they received a 911 call at 11:17 p.m. on Saturday, according to the Georgia Bureau of Investigation. The original call reported that Schultz was also carrying a gun, officials said.
"Nobody wants to hurt you," an officer says in the video.
But as Schultz continued to ignore the officers' commands and stepped forward with the knife, a single shot rang out, and Schultz's screams could be heard.
The young engineering student died later at Grady Memorial Hospital.
The Georgia Tech Pride Alliance posted a message to its website:
As you might have heard, last night we lost our President, Scout Schultz. We are all deeply saddened by what has occurred. They have been the driving force behind Pride Alliance for the past two years. They pushed us to do more events and a larger variety events, and we would not be the organization we are known as without their constant hard work and dedication. Their leadership allowed us to create change across campus and in the Atlanta community. Scout always reminded us to think critically about the intersection of identities and how a multitude of factors play into one's experience on Tech's campus and beyond.
We love you Scout and we will continue to push for change.
With love,
Pride Alliance
Schultz's parents and lawyer questioned the use of lethal force. Watch the video here (warning: violent and disturbing).
The Atlanta Journal Constitution adds:
"Why didn't they use some nonlethal force, like pepper spray or Tasers?" Scout's mother, Lynne Schultz, said in an exclusive interview with The Atlanta Journal-Constitution.
A Tech spokesman said campus police do not carry Tasers, or stun guns, but are equipped with pepper spray.
"I just don't understand how they couldn't have Tasers," Stewart said.
What led to the confrontation is a question that may never be answered conclusively.
Scout's mother said the computer engineering student had attempted suicide two years ago using a belt as a noose. Diagnosed with depression at a young age, Scout's mental health often wavered.
"It was intermittent," Lynne Schultz said. "There was trouble in middle school, and then there was improvement."
Overall, "Scout spent more time being fine than not fine," she said.