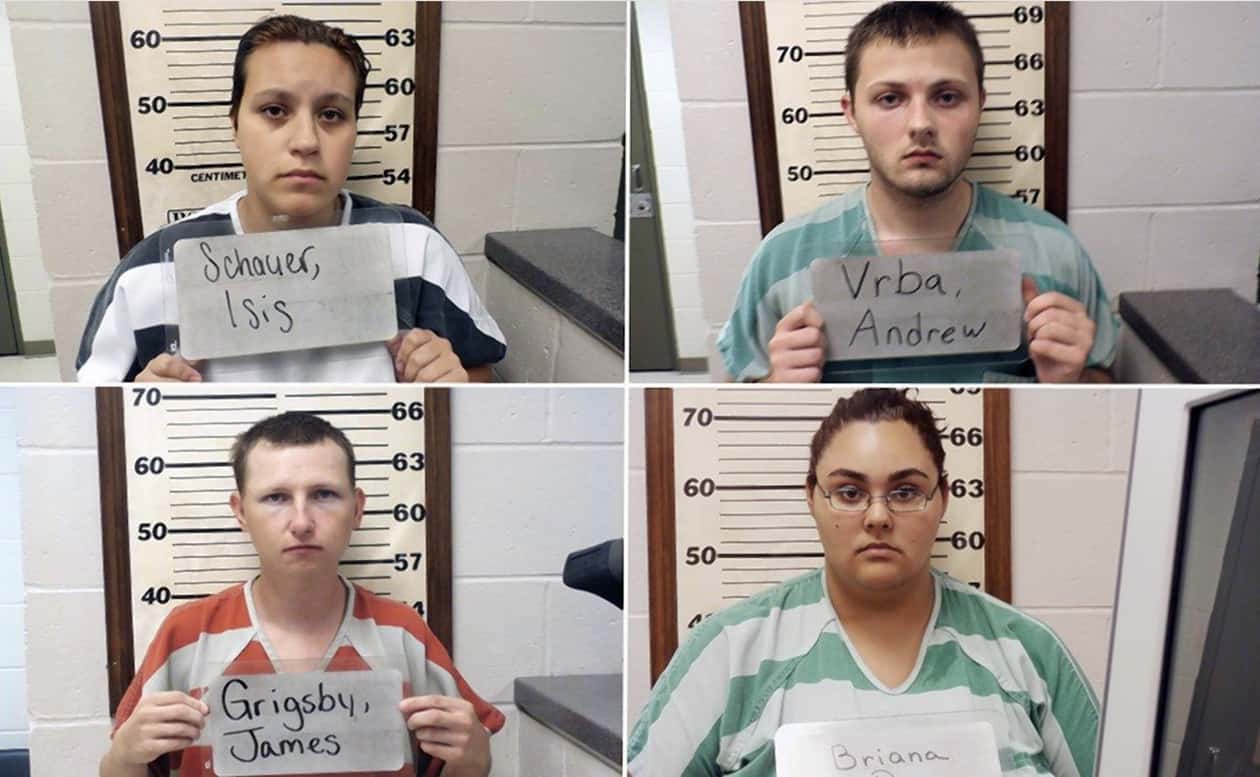 Four people (above) in Texas County, Missouri have been arrested on charges of mutilating and murdering transgender teenager Ally Lee Steinfeld (below).
19-year-olds Andrew Vrba and Isis Schauer and 24-year-old Briana Calderas were arraigned on Monday on charges including first-degree murder, armed criminal action and abandonment of a corpse. James T. Grigsby was also charged with abandonment of a corpse and tampering with evidence in a felony case.
According to the Springfield News-Leader, Schauer and Calderas told authorities they helped burn Steinfeld's body after she had been repeatedly stabbed and had her eyes gouged out.
Her burned remains were found earlier on Monday near Calderas' mobile home in Cabool, 70 miles east of Springfield. She had been reported missing by her family.
The last people known to have been with Steinfeld were Vrba, Schauer and Calderas. The victim's family had spoken to the three suspects who they believed to be lying about Steinfeld's whereabouts.
When question by police, Schauer denied any part in the victim's disappearance. However, it is alleged that Facebook messages were found on Schauer's phone telling her to "stick to the story" and "quit talking." The messages are believed to have been sent by Vrba who later admitted that he killed Steinfeld. Vrba said that he initially tried to poison the teen and then stabbed her in Calderas' mobile home. Schauer later admitted she was aware of the killing and helped get rid of the body.
Vrba also alleged that he, Schauer and Calderas burned Steinfeld's body, placed some of the bones into a garbage bag and left the bag in a chicken coop. Schauer and Calderas said Vrba told them he had gouged out Steinfeld's eyes, stabbed her in the genitals and bragged about the killing.
Calderas admitted Steinfeld was killed at her home and that she helped burn the body. She said she did not want Steinfeld dead but Schauer and Vrba claim Calderas mentioned several days earlier that she wanted Steinfeld to die.
Steinfeld's sister Ashleigh Boswell said she was "a very loving, outgoing person" who "didn't like conflict whatsoever" and she had talked to the family about undergoing gender reassignment surgery one day.
"We honestly don't understand why they done it," she added. "It just don't make any sense."
A GoFundMe campaign has been set up to help pay for Steinfeld's funeral expenses.