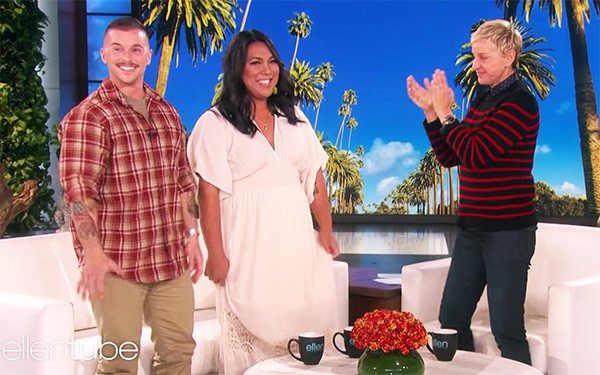 Ellen DeGeneres sat down last Friday to speak with a transgender couple, Logan and Laila Ireland, who met while serving in the military. The show focused on the impact of the Trump administration's forthcoming ban on transgender troops, as well as the distinctive circumstances surrounding the couple.
Logan, 29, is a staff sergeant currently serving in the Air Force, while Laila, 31, served as a combat nurse in the Army from 2004 to 2015. Logan is a transgender man who began transitioning in 2012, while Laila is a transgender woman who began her transition in the same year. 2012 is also the year that the two met.
While Laila encountered some friction with her superiors as her transition became more evident, Logan reports a generally supportive environment among fellow troops. Each has spoken out against the pending military restriction against the service of transgender soldiers, which is due to take effect in some form by February 21, 2018 as per the implementation panel convened by Defense Secretary James Mattis.
The Trump administration's policy has been rightfully attacked as bigoted and counterproductive, and the Chairman of the Joint Chiefs of Staff has advised against it. The ACLU is seeking a legal process to scale back or reverse the order, while DeGeneres herself had the following to say about it, and reiterated her sentiments while speaking with the Irelands.
We should be grateful to the people who wish to serve, not turn our backs on them. Banning transgender people is hurtful, baseless and wrong

— Ellen DeGeneres (@TheEllenShow) July 26, 2017
Logan also showed up at the MTV VMAs in a red carpet appearance along with other serving transgender military members, representing a total of an estimated 15,000, to bring awareness to the unfairness of the recently announced policy.
Logan and Laila have even had to put their plans to adopt a child on hold while the uncertainty continues. The pair were presented with a donation check from Shutterfly to assist their journey to parenthood. Logan's own mother was present in the audience and spoke eloquently about acceptance.
Watch the segment below:
[youtube https://www.youtube.com/watch?v=kVB9i7xibOE]