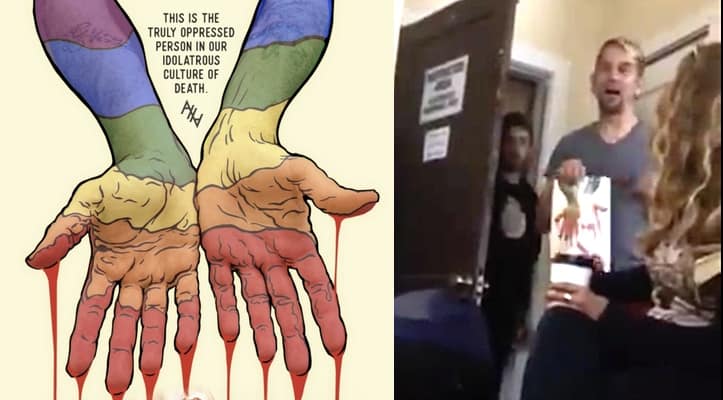 Ben Borgman, the gay owner of the Seattle coffee shop Bedlam, was filmed kicking the "Christian" group Abolish Human Abortion out of his business. The group, which told Borgman he could be "saved," had been distributing a poster featuring a set of blood-covered rainbow hands which had just let go of an aborted fetus.
You can see the full poster here (warning: graphic).
The video has gone viral thanks to outraged conservatives who seem to think they can compare people being denied service for who they are to groups handing out hateful propaganda.
Borgman did not hold back in confronting the group, saying, "I have a right to be offended, so I have a right to say get out…Can you tolerate my presence?…If I go get my boyfriend right now and f**k him in the a*s right here, you're going to tolerate that?…Leave, all of you. Tell all of your f**king friends not to f**king come here."
One of the group members answered back, "Just know that Christ can save you from that lifestyle."
Replied Borgman: Yea, I like a*s, I'm not going to be saved by anything. I'd f**k Christ in the a*s, OK? He's hot."
Watch:
https://www.facebook.com/AbolishHumanAbortion/videos/1584181761647832/