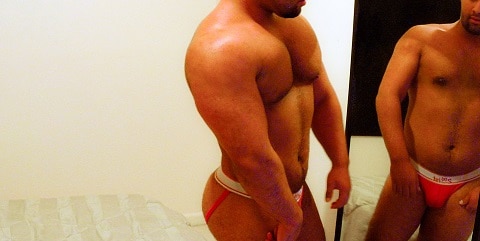 A new study published last month in Archives of Sexual Behavior has found that there are links between body dysmorphia and gay porn consumption.
The study also found a link between negative body image and engaging in risky sex or not taking HIV medication on time.
Using a sample of 1071 gay and bisexual men (GBM), the authors of Viewing Sexually Explicit Media and Its Association with Mental Health Among Gay and Bisexual Men Across the U.S. found that greater consumption of sexually explicit material (SEM) was directly related to "more negative body attitude and both depressive and anxious symptomology."
In an interview with Vice, one of the study's authors Jeffrey T. Parsons, a professor at Hunter College and founder of its Center for HIV Educational Studies and Training, said that the links between negative body image, engaging in risky sex and not taking HIV medication on time stem from "from the broader mental health issues that gay men still grapple with on a daily basis: stigma, discrimination, stress from being part of a marginalized group."
Parsons added:
One Supreme Court decision didn't reverse decades of discrimination. If you add Trump's daily threats to the LGBTQ community, and overlay that with the feeling "I feel bad about my body," the idea of then taking your HIV medications it's like, well, maybe I'll just put that aside because I'm feeling so depressed and anxious and unhappy with how I look. Some people really allow the negativity they feel in their body to limit how well they take care of their health.
The authors of the study conclude that although GBM report very few negative effects of SEM, their findings "expand on past research and suggest that there is a connection to negative mental health via negative body image." The findings, they argue, "suggest there may be a need for mental health treatment in the GBM community that also focuses on body image and SEM consumption as significant predictors."
(Photo by Noodlesandbeef is licensed under (CC-by-3.0)