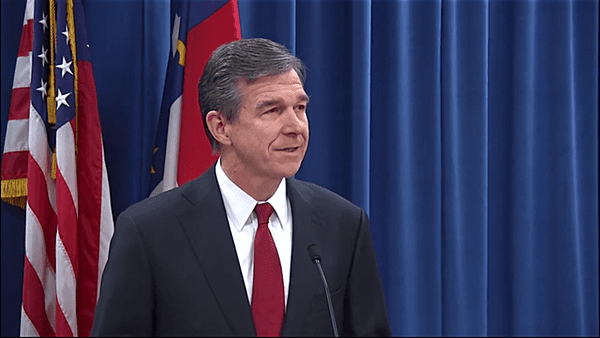 North Carolina Governor Roy Cooper announced a proposed settlement to legal challenges to HB2 submitted to a federal judge. If the judge, Cooper, his Cabinet secretaries and state Attorney General Josh Stein sign the order, the challengers to the anti-LGBT law will drop their suit.
HB2, as you may recall, forbid transgender people from using bathrooms based on gender identity and required them to use bathrooms based on their birth certificates. It also forbid enactment of local LGBT ordinances in cities around the state, and blocked an LGBT non-discrimination ordinance in Charlotte.
The proposed order says that under House Bill 142, "transgender people are not prevented from the use of public facilities in accordance with their gender identity."
"For too many reasons, it is not in our state's best interest to remain in drawn-out court battles that still linger because of HB2," Cooper said in a statement. "As a state, we need to work together to make North Carolina more welcoming, and I am pleased that we could come together with the other party in this case to show that we agree."
Cooperalso  signed an executive order applying to state workers and contractors that prohibits employment discrimination on the basis of race, gender, National Guard or veteran status, sexual orientation, or gender identity.
"By requiring companies that contract with the state to have non-discrimination policies, the state can promote protections for more North Carolinians outside of state government," Cooper said. "We've worked with the business community, advocates for the LGBT community and other North Carolinians who know our state is stronger because of our diversity, and I will keep working to make our state a welcoming and inclusive place."
The Human Rights Campaign responded to the executive order:
"While this executive order may represent some narrow improvements for LGBTQ North Carolinians, by no means does it offer full protections or rectify the tremendous harm caused by HB 2 and continued harm from HB 142," said JoDee Winterhof, Senior Vice President of Policy and Political Affairs. "Governor Cooper and state lawmakers must show leadership on the real solution for North Carolina — statewide, LGBTQ non-discrimination protections."
"This EO brings North Carolina a little bit closer back to where many states have been for years. And that has some meaningful consequences for many LGBTQ North Carolinians—it means, for example, that they have a bit of extra protection against being turned away from government services like the DMV and fired from a state government job simply because of their gender identity or sexual orientation," said Mara Keisling, Executive Director of the National Center for Transgender Equality. "But it's not nearly enough, especially when the state of North Carolina continues to sanction and promote anti-transgender discrimination under HB 142."
Get Towleroad Headlines Daily.
News daily from one of the most trusted, independent, lgbtq owned and operated media outlets. Covering news, entertainment, science, media, art and more for almost 17 years.