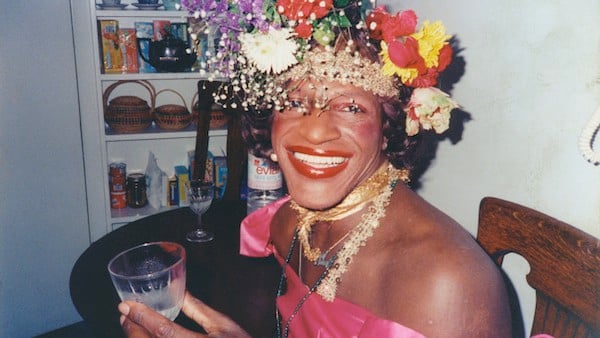 Looking for something to stream while you Netflix and chill? Check out our picks for new films streaming this month below, including How to Survive A Plague, Queens and Cowboys and The Death and Life of Marsha P. Johnson.
How to Survive a Plague (2012), available on Hulu Oct. 1
'Resist' may be this year's rallying cry, but there were few braver, bolder activists fighting for justice than ACT UP and TAG, two coalitions that crusaded for response to the HIV/AIDS epidemic from the government and medical community. David France made this doc for his partner, Doug Gould, who died of AIDS-related pneumonia.
Queens and Cowboys: A Straight Year on the Gay Rodeo (2014), available on Amazon Oct. 1
You've heard of bears, cubs, otters and wolves, but what about bulls? Get to know the steers and queers of the International Gay Rodeo Association in this documentary that explores the unique community and its challenges.
Stonewall (2015), available on Hulu Oct. 3
Did you ever wonder what the Stonewall Riots would have looked like if everyone was more white? Roland Emmerich's much derided dramatization of the Stonewall Riots received heaps of critiques for its focus on young, handsome gay men at the expense of the queer and trans people of color at the forefront of the movement.
The Death and Life of Marsha P. Johnson (2017), available on Netflix October 6
For a much more realistic portrait of the heroes at Stonewall, don't miss this fantastic documentary (also from David France). Johnson was a legendary trans activist and iconic presence, known as the Rosa Parks of the LGBT movement.
Fifty Shades Darker (Unrated Version) (2017), available on HBO Oct. 14
Why can't straight people just keep what they do in the bedroom behind closed doors and stop throwing it in our faces?
All films coming to Netflix
Available October 1
88 Minutes
A Cinderella Story: Once Upon a Song
Before Midnight
Blood Diamond
Boogie Nights
Charlie and the Chocolate Factory
Death Sentence
Don't Be a Menace to South Central While Drinking Your Juice in the Hood
Eagle vs. Shark
Eyes Wide Shut
Generation Iron 2
Ghost Patrol
I Love You, Man
Ice Guardians
Made of Honor
Miss Congeniality
Miss Congeniality 2: Armed and Fabulous
Must Love Dogs
Never Let Me Go
No Reservations
Penelope
The Reaping
Set Up
Tokyo Idols
Tommy Boy
Vanished
Veronica
Available October 2
Mr. Dynamite: The Rise of James Brown
Sleeping With Other People
Available October 3
13 Demons
Cult of Chucky
The Survivalist
Available October 4
Raw
Available October 6
The Death and Life of Marsha P. Johnson
Available October 7
Middle Man
Available October 10
The Skyjacker's Tale
Available October 11
Donnie Darko
Available October 12
Fe de etarras
Available October 13
The Babysitter
Kingdom of Us
The Meyerowitz Stories (New and Selected)
Talladega Nights: The Ballad of Ricky Bobby
Available October 15
Belief: The Possession of Janet Moses
Money
OtherLife
She Makes Comics
Available October 17
Slasher: Guilty Party
Available October 19
Wedding Unplanned
Available October 20
1922
The Day I Met El Chapo: The Kate del Castillo Story
One of Us
Smurfs: The Lost Village
Wheelman
Available October 23
Meet the Robinsons
While We're Young
Available October 25
The Final Master
The Hateful Eight
Available October 26
Strange Weather
Available October 27
Joan Didion: The Center Will Not Hold
Available October 28
Pup Star: Better 2Gether
All films coming to Hulu
Available October 1
Air Force One
Alice
The Amityville Horror
The Amityville Horror
And God Created Woman
Bananas
The Blood Oranges
Blue Steel
Bolero
Bowling For Columbine
Brief Interviews with Hideous Men
Candyman 3: Day of the Dead
Carrie
Chinatown
Class
Congo
Cool It
Curse of the Pink Panther
Dead Men Can' t Dance
Deep Impact
Diminished Capacity
The Dogs of War
Everything You Always Wanted to Know About Sex
The Falcon and the Snowman
A Feast at Midnight
The Gambler
The Gift
The Godson
Groundhog Day
Hide
How to Survive a Plague
The Hunger Games: Mockingjay Part 2
I am David
Island in the Sky
Joyride
Kill Bill: Volume 1
Kill Bill: Volume 2
Kill List
Last Night
Legend of Kung Fu Rabbit
Little Ninjas
Lost and Delirious
Love and Death
Malibu Beach
Malibu High
Mammoth
Married to the Mob
Midnight in Paris
A Midsummer Night's Sex Comedy
Mission Park
Murder of Crows
National Lampoon Presents Cattle Call
National Lampoon's Dirty Movie
National Lampoon's Dorm Daze 2: College
Nick of Time
North Dallas Forty
Nukie
The Patriot
The Pink Panther Strikes Again
The Pink Panther
The Pink Panther
Platoon
Poltergeist II: The Other Side
Poltergeist III
Pontypool
Psychic
Quigley Down Under
Revenge of the Pink Panther
Rodger Dodger
Room 237
S.W.A.T.
Secretary
SFW
A Shot in the Dark
Sleepaway Camp 2: Unhappy Campers
Sleepaway Camp 3: Teenage Wasteland
Sleepy Hollow
Snatch
The Snowtown Murders
Son of the Pink Panther
Spanish Judges
Stage Beauty
Stand Off (AKA Prairie Fire)
Stigmata
The Stoned Age
Stranger in the House
Stuart Saves His Family
Swingers
The Blair Witch Project
The US vs. John Lennon
Thirteen Days
Throw Momma from the Train
Trail of the Pink Panther
Troll
Troll 2
True Colors
Under Fire
The Warriors
Whore 2
Zombie Nation
Available October 3
Stonewall
Available October 7
City of Gold
Available October 11
Knife Fight
Available October 12
Tyler Perry's Daddy's Little Girls
Available October 14
Venus in Fur
Witching & Bitching
Available October 15
Varsity Blues
Available October 18
How to Build a Better Boy
The Suite Life
Twitches, Too
T'was the Night
Halloween High
Return to Halloweentown
Available October 21
Spectre
Available October 23
Shine a Light
Available October 25
A Brilliant Young Mind
All films coming to Amazon
Available October 1
Abandoned Mine
Alcoholist
Apartment 1303
Bunker of the Dead
Clueless
Election
Escape from L.A.
Fargo
Ghost World
Ghoulies
Ghoulies II
I Believe in Unicorns
Invasion of the Body Snatchers
Jug Face
Margot at the Wedding
Needlestick
Pet Sematary
Pet Sematary Two
Pi
Queens and Cowboys
Scareycrows
Snake Eyes
Texas Chainsaw Massacre II
The Machinist
The Whistleblower
Unlimited
Available October 2
Song to Song
Available October 4
Blood Hunters
Save My Seoul
Available October 7
Blair Witch
Megan Leavey
Available October 11
5150
Available October 13
City of Ghosts
Available October 14
Jack Reacher: Never Go Back
Available October 15
The Other Dream Team
The Whole Truth
Available October 18
Fight for Space
Available October 20
The Wall
Available October 25
Awaken the Shadowman
The Liberators
Available October 28
Arrival
Available October 29
Priceless
All films coming to HBO
Available October 1
Australia
Constantine
The Darkness
Dead Presidents
Death Race
Eraser
Finding Neverland
Jackass: The Movie
Lights Out
Master and Commander: The Far Side of the World
Monster's Ball (Unrated Version)
The Ninth Gate
One Halloween
The Pink Panther
The Purge: Election Year
The Resurrection of Gavin Stone
Rock Dog
The Sandlot
The Sandlot 2
The Shack
Stuck on You
The Terminator
Wanted
X-Men Origins: Wolverine
Available October 14
Fifty Shades Darker (Unrated Version)
Available October 21
John Wick: Chapter 2
Available October 28
Split
What are you streaming this month?