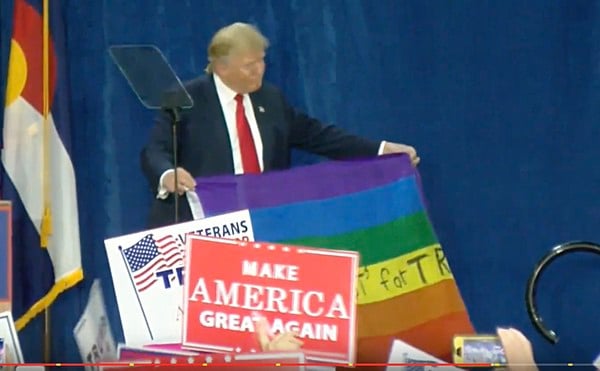 The erasure continues.
Trump's Department of Health and Human Services released its strategic plan FY 2018-2022 and gone are all mentions of anything LGBTQ-related, the Human Rights Campaign reports:
It is clear that this draft plan will continue the Trump-Pence administration's history of putting ideology before agencies' missions. As Politico points out, this strategic plan erases references of minority communities, including the LGBTQ population, mentions "faith" or "faith-based" organizations more than 40 times (as opposed to the three references in the Obama Administration's plan) and uses anti-abortion language.
The mission of HHS is "to enhance and protect the health and well-being of all Americans," yet the erasure of LGBTQ people from this strategic plan suggests that for the Trump-Pence administration, helping LGBTQ people achieve better health outcomes will not be a priority. Studies show that LGBTQ people face greater health challenges than their straight and cisgender counterparts.
HRC adds:
The new strategic plan also does not mention the agency's role in promoting and carrying out the Affordable Care Act (ACA). The ACA has served as a lifeline for millions of LGBTQ people, who have too often found themselves cut off from critical healthcare services and report some of the lowest insurance rates of any population in the country. The ACA has made it possible for many LGBTQ people to obtain health insurance for the first time in their lives and enabled thousands of low-income people living with HIV to obtain health insurance through the Medicaid expansion.  The ACA also includes the first federal protections from discrimination in healthcare on the basis of sex, which has been interpreted to include sexual orientation and gender identity. The Trump administration's lack of commitment to the ACA will disproportionately impact LGBTQ people and their ability to access affordable health care.
Moreover, the heavy focus by HHS on faith-based organizations, coupled with President Donald Trump's groundwork for a license to discriminate executive order, could also be a sign that HHS could be paving the way for faith-based organizations to deny LGBTQ people access to critical health care services because of organizations' purported religious beliefs. In addition, the anti-abortion language shows that HHS could shift away from empowering pregnant people to make informed decisions about their own bodies, including accessing contraception and getting an abortion if they so choose. In May, Trump proposed an interim final rule that could strip millions of women and LGBTQ people of access to critical contraceptive care previously guaranteed under the Affordable Care Act (ACA). Vox reported on a leaked draft of the proposal that would allow employers — including for-profit companies —  to refuse to provide insurance coverage of birth control on the basis of religious or moral objections.