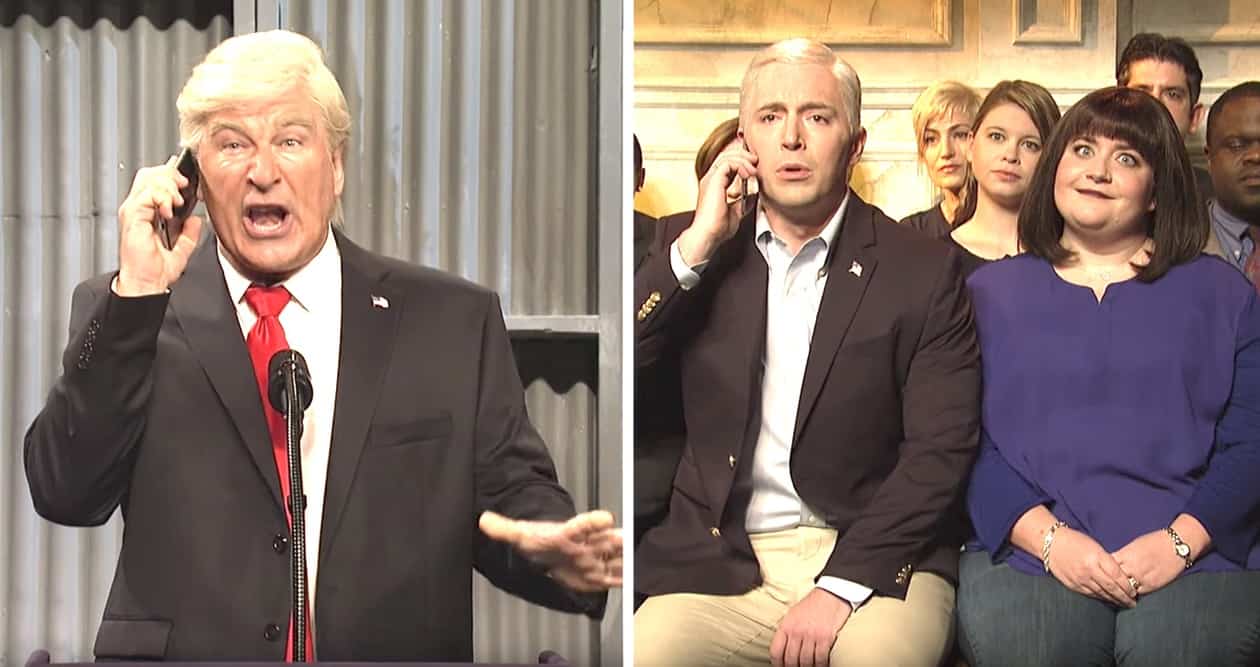 Alec Baldwin's Trump returned to SNL last night at a rally in Harrisburg (Harass-burg), Pennsylvania to talk about all the ways he's undoing everything that Obama did along with "ripping out all of the vegetables in Michelle Obama's garden and planting McNuggets."
Baldwin's Trump also spent the segment  on the phone with Mike Pence coordinating the National Anthem stunt, ordering Pence to bail from the stadium when players got down to kneel. When Pence later showed up in a Starbucks, Trump ordered him to check the cups to make sure they said Merry Christmas and had a picture of him on them as Santa handing out coal  to children "because coal is the future of this country."
When Pence told Trump the cups said "pumpkin spice is back", Trump ordered him to "get out of there, vamos!"
Baldwin also mocked "Liddle Bob Corker" calling him a "midget."
And the Secretary of State:
"How dumb is that Rex Tillerson, folks? I mean really. What a dumb dumb dumberooni. And he had the nerve to call me a moron? Talk about the pot calling the kettle Mexican."
When Pence called in to Trump again he was seated at a wedding which he thought was a 'safe space' but had to flee when he realized two grooms were at the altar.
"I know you hate this word Mike, but abort, abort, vamonos," screeched Baldwin's Trump. "Outrageous. no one should disrespect the sanctity of marriage like that, as it says. In my favorite verse of the Bible – double Corinthians – marriage is between a man and a woman, then another woman, then another woman, and maybe one more if you've go it in you."
Finally, Baldwin's Trump had a response to Eminem's rap attack:
"Eminem apparently did a freestyle network on the BET network the other day, and he rapped some very nasty things about me, and very soon I'm going to release a response rap on the White Entertainment Network, HGTV."
Watch: