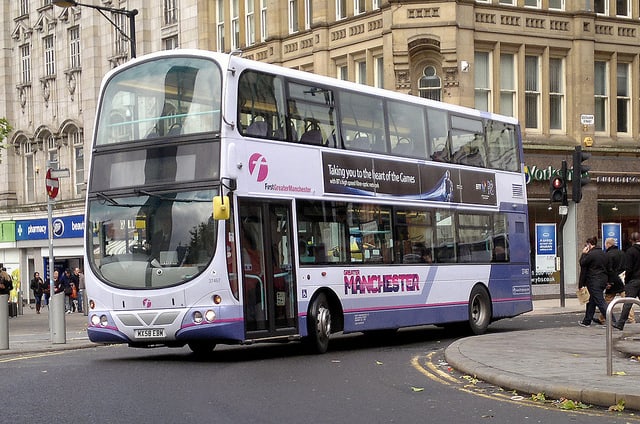 A bus company in Manchester, England has launched an investigation after a gay couple alleged a driver subjected them to homophobic taunts.
John Mullarkey and Steven Crosbie say a First Manchester driver made an offensive "limp wrist" after they disembarked a bus on Monday.
The Manchester Evening News reports:
The couple say the driver had first seen them holding hands before the journey, as they queued at Shudehill Station, and closed the door in their faces as they went to get on board.
John and Steven ran up to the next bus stop, where they were able to board the same service, but say the same driver was then 'abrupt and arrogant' towards them.
It was shortly after, when they were getting off the bus in Heywood, that they say the driver made the offensive hand gestures.
Crosbie explained:
"He was thanking the customers in front of us, but he was just very abrupt and arrogant with us.
"He just looked away. I wouldn't even call him a bus driver. I've never experienced anything like it before on public transport.
"As he drove away he was also shouting something at us, but as the windows were closed we couldn't hear what it was.
"I was bullied for five years in school for being gay, but it's 2017 and it shouldn't still be happening.
"It's not the first time this kind of thing has happened since I left school, but it is the first time it's happened on public transport, that's what shocked me the most. It was the worst experience of my life."
"It was just disgusting," added Mullarkey. "I only came out in 2016 and this was my first horrible experience, and from it to come from a bus driver, it didn't feel nice."
A First Manchester spokesperson confirmed the company is conducting a full investigation.