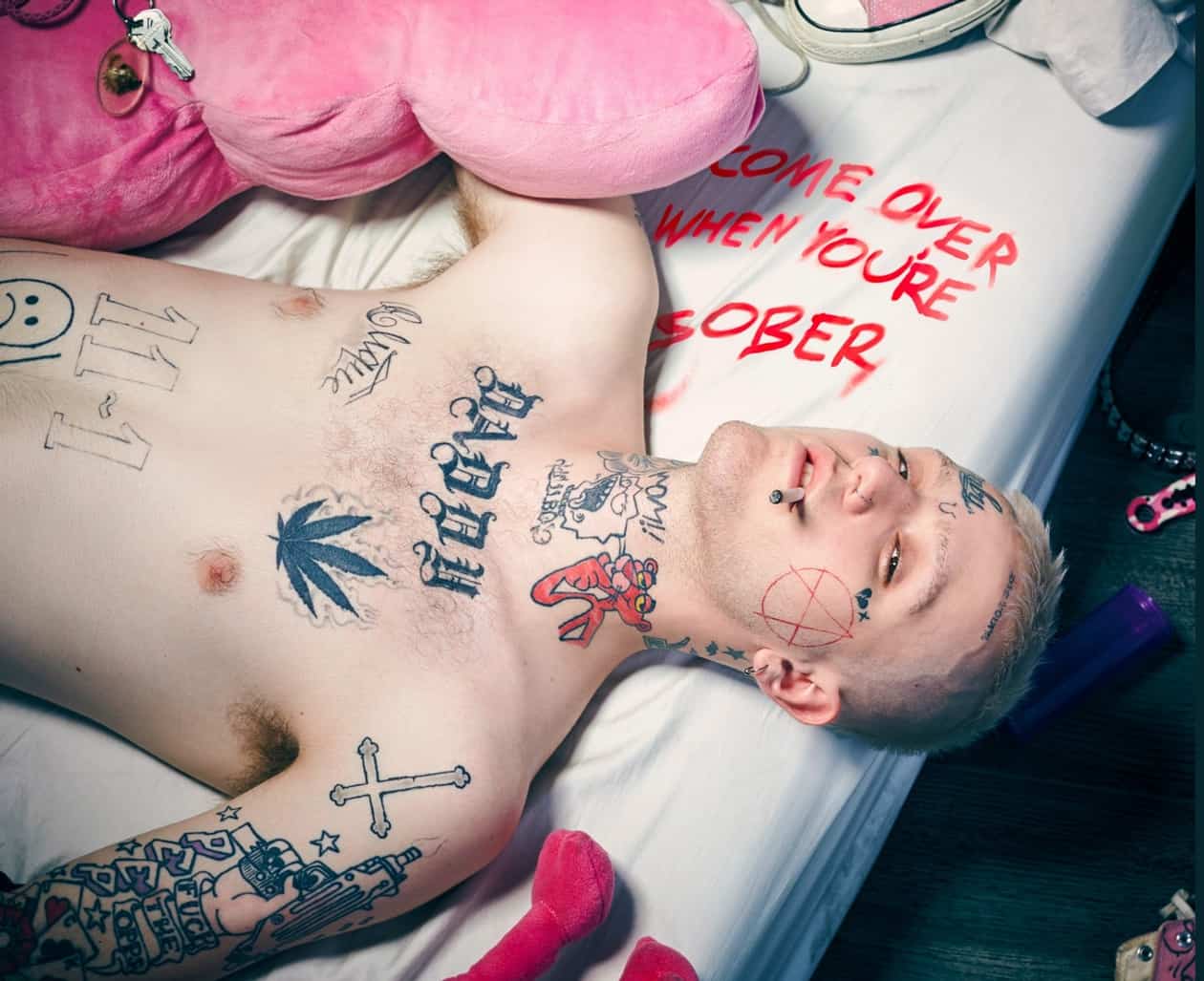 Emerging rapper/singer and YouTube star Lil Peep has died at 21 of a suspected overdose after posting a video to Instagram saying he had just taken a number of xanax pills.
A native of Long Island, Lil Peep came out as bisexual in August and had just released "Come Over When You're Sober (Part One)", his debut album.
Gustav Åhr, who grew up in Long Beach, New York, was reportedly taken to hospital following an overdose, according to music manager Adam Grandmaison. In a video Åhr posted online hours before his death, he said he had taken prescription drugs and other substances, saying: "I'm good, I'm not sick".
https://www.instagram.com/p/BbfmbDeljp6/
He got his start recording his own songs on a $200 microphone plugged into his laptop and sang about drugs, suicide, and failed relationships.
Peep, who was branded the "future of emo" in a Pitchfork feature in January, grew a sizable social media following, where he frequently posted about his drug use.
He also had "Get Cake Die Young" tattooed along his hairline, and his Instagram bio read, "musician/supermodel/toyboy //ugly, cute and dying."
Pitchfork's Steven Horowitz profiled Peep in January:
Image is paramount to Peep, born Gustav Åhr. When he's not pairing Katy Perry T-shirts and hockey jerseys with fluorescent magenta jeans, he's performing shirtless, exposing a stomach tattoo bearing the word "LOVE" with a sad face imprinted in the "O." He flaunts his relationship with Layla, recently showing up in a tweeted photo with his face planted in her bare ass. (The caption: "fine dining.") He now has more followers on Instagram (112,000) than on SoundCloud (82,000), where he posted his first song just a year ago.
"It's like professional wrestling—everyone has to be a character," says Peep. "If you're not a fun enough character, then no one's gonna f**k with you because you don't have enough sh*t that's different."
Peep is a big personality, but he's not a clown; he's not just another RiFF RAFF. He's the fresh-faced avatar of post-emo angst that's not quite rap or rock. Instead, it falls into a grey area full of with spidery guitars, 808 drums, and wall-of-sound production. It's been described as the "new emo" and "emo trap," raw and stinging and a direct confluence of his influences—Gucci Mane, Crystal Castles, Panic! at the Disco.
Producer-artist Diplo said he was inspired by Lil Peep on Twitter.
peep had so much more to do man he was constantly inspiring me. I dont feel good man

— diplo (@diplo) November 16, 2017
DJ/Producer Marshmello posted a heartfelt tribute:
I cant even believe this. We were just talking last week about working on a song together and now you're gone. You will be missed, R.I.P. @Lilpeep 😪 pic.twitter.com/GQRJe8Vck0

— marshmello (@marshmellomusic) November 16, 2017
I can't believe this ……

— marshmello (@marshmellomusic) November 16, 2017
Peep was the nicest person. hanging out with him, talking to him about music, the song ideas we were going to do together and touring was so amazing. Everyone will miss you man @Lilpeep

— marshmello (@marshmellomusic) November 16, 2017
None of us are promised tomorrow. Make sure everyday counts

— marshmello (@marshmellomusic) November 16, 2017
Don't wait until someone's gone to tell them how much you love them, forgive and forget any issues with those you care about and realize that we all are only here for a limited amount of time

— marshmello (@marshmellomusic) November 16, 2017
There's enough hate around us, we need to just love eachother…real talk

— marshmello (@marshmellomusic) November 16, 2017
People always wait until someone is gone to express how much they loved or cared about them…that shouldn't be the case.

— marshmello (@marshmellomusic) November 16, 2017
I love you all very much and I'm here for every single one of you guys.

— marshmello (@marshmellomusic) November 16, 2017
Im not a philosopher, I'm a dreamer and a believer. While most of the world is worried about itself, I pride myself on bringing positivity to our scene and figuring out ways to bring change to the world for the better. Fuck chasing fame, we all bleed the same blood. https://t.co/eJt8Low4cK

— marshmello (@marshmellomusic) November 16, 2017
Others expressed their sadness over Lil Peep's sudden passing:
https://twitter.com/tydollasign/status/931054288670924800
Peep you deserved more out of life. Life didn't do your greatness justice

— BITCHIMBELLATHORNE (@bellathorne) November 16, 2017
So young. So sad. RIP @Lilpeep

— Zane Lowe (@zanelowe) November 16, 2017
RIP LIL PEEP 💔

— Travis Barker (@travisbarker) November 16, 2017
Lil Peep forever❤️ pic.twitter.com/Yng5ABM0UL

— pw (@petewentz) November 16, 2017