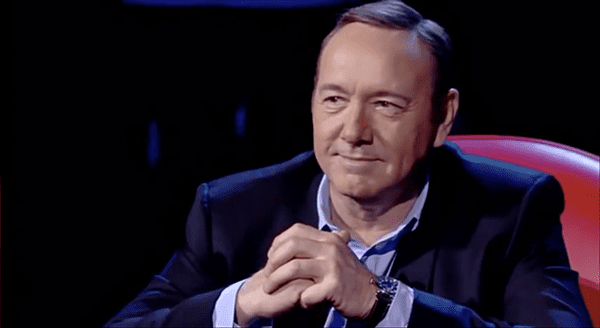 A British bartender says that Kevin Spacey flashed him and bragged about the size of his dick and then gave him his $6500 watch to keep him quiet. He said the recent revelations about Spacey's sexual abuse of others compelled him to speak out.
Daniel Beal, who was 19 at the time and is now in the Army, told The Sun that Spacey, who was artistic director at London's Old Vic theatre and had been to a production at the nearby Chichester Festival Theatre, came to his bar in the Goodwood Park Hotel, West Sussex.
Said Beal:
"Every time I tried to give him a drink he'd touch my hand in a weird way. He was drinking more and more — he got through a bottle of Jack Daniels."
Beal said Spacey followed him outside on a cigarette break and asked the barman if he wanted to smoke weed and asked him to come back to his room.
"Before I had a chance to do anything he got his d*** out. I said 'What the f*** are you doing?' He said 'It's big, isn't it?' He leaned over and tried to pull my hand towards it. I went back inside."
Back inside the bar, Spacey gave him his expensive watch.
"I thought he was joking but he took off his watch and gave it to me….Looking back I realise it was to keep me quiet…In hindsight, that must have been grooming. He was just like his character in House Of Cards — seedy and a bit weird. All my friends were telling me to keep it. But I felt dirty wearing it."
Beal said he sold the watch, but showed photos of it to The Sun.
Beal said Spacey's people called the hotel demanding the watch back. "Spacey or his people had obviously complained I had somehow acted inappropriately. But it was him in the wrong."
In related news, actors and staff at the Old Vic have accused the theatre of turning a blind eye to Spacey's inappropriate behavior while artistic director there for 11 years:
In a statement the theatre said: "The Old Vic is not currently in a position to comment on specifics of what may have taken place in the past."
The theatre said that anyone with concerns over any inappropriate behaviour by Spacey at the Old Vic should email them at confidential@oldvictheatre.com. The statement went on: "Since we set up this confidential line of communication, we are already seeing the great benefits of the new policy of openness and the safe sharing of information. We stand by, support and strongly encourage the industry wide culture shift that is underway."