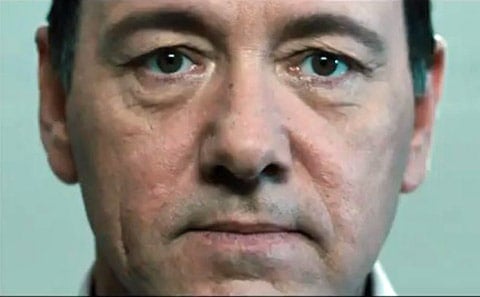 New York magazine's Vulture has published a detailed interview with an unnamed man described as "friendly with a member of the New York staff" who claims Kevin Spacey raped him at the age of 15.
The man, now 48, says he met Spacey at 14 when Spacey was a guest teacher at a weekend acting class in Westchester County, New York, described how Spacey allegedly wooed the teen after running into him again at Shakespeare in the Park in 1983.
The two then began a sexual relationship which ended after Spacey allegedly attempted to rape him (described in vivid detail in the NY Mag story) in the actor's apartment on the Upper West Side.
Added the actor when asked how he'd started thinking of Spacey as a sexual predator:
I would call him a pedophile and a sexual predator. When I turned 25, I looked at every 14-year-old boy I could see, to try to understand what those men had seen, because I still on some level thought I had been a tiny adult. That whole year I was 25, I tried to just see the ones who were like six-foot-two, and 200 pounds — they all looked like children. They all looked like somebody who was 10 years old four years ago. Nobody looks f**kable. Nobody … I couldn't conjure it up. I couldn't conjure up the desire. It was nauseating to think of having sex with them, and that was, I think, certainly when I understood, on a very deep level, these men were fucked up. Up until then, I just thought about him as somebody who had really done me wrong and tried to rape me, but not as somebody who had functioned as a predator. And then, if you're interested in sexual predation, you start to read about it, and you realize all these patterns and techniques, and it all kind of falls within a set of practices.
Spacey has denied the allegations. Adds Vulture:
We have done our best to verify his account of his time with Spacey. We confirmed with two sources that Spacey taught at the acting school in 1981; checked the plausibility of dates and other details in his account; and spoke with people close to the former student, who said that he had spoken about his relationship with Spacey as far back as the 1990s. We also spoke with his current therapist, who confirmed that he began speaking about it in sessions in 2015. And we have confirmed the other abusive relationship the former student discusses. We reached out to Spacey to talk about the relationship. He responded through his lawyer, who wrote in an email, "Mr. Spacey absolutely denies the allegations."
Since Anthony Rapp came forward with his allegations against Spacey last week, at least two others have come forward as well:
… the filmmaker Tony Montana, who said that Spacey groped him in public in 2003, and the actor Roberto Cavazos, who said he witnessed Spacey court and inappropriately touch younger male actors at the Old Vic Theatre, where Spacey was the artistic director from 2004 to 2015.