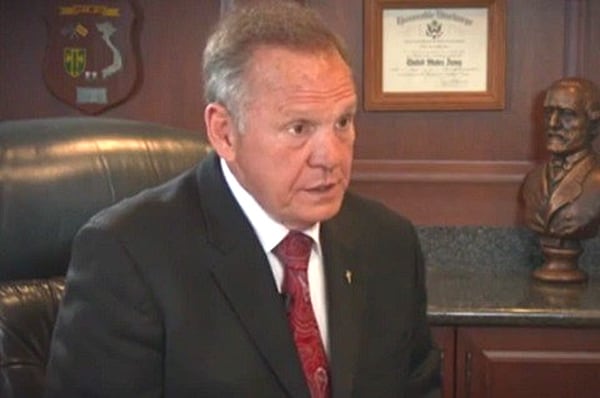 Homophobic, Christian, family values hypocrite GOP Senate candidate Roy Moore defiantly shook off allegations he sexually assaulted a 14-year-old girl when he was 32, tweeting "rest assured — I will NEVER GIVE UP the fight!" and releasing a statement through his campaign:
"Judge Roy Moore has endured the most outlandish attacks on any candidate in the modern political arena, but this story in today's Washington Post alleging sexual impropriety takes the cake. National liberal organizations know their chosen candidate Doug Jones is in a death spiral, and this is their last ditch Hail Mary.
"The Washington Post has already endorsed the Judge's opponent, and for months, they have engaged in a systematic campaign to distort the truth about the Judge's record and career and derail his campaign. In fact, just two days ago, the Foundation for Moral Law sent a retraction demand to the Post for the false stories they wrote about the Judge's work and compensation. But apparently, there is no end to what the Post will allege.
"The Judge has been married to Kayla for nearly 33 years, has 4 children, and 5 grandchildren. He has been a candidate in four hotly-contested statewide political contests, twice as a gubernatorial candidate and twice as a candidate for chief justice. He has been a three-time candidate for local office, and he has been a national figure in two ground-breaking, judicial fights over religious liberty and traditional marriage. After over 40 years of public service, if any of these allegations were true, they would have been made public long before now.
"Judge Roy Moore is winning with a double-digit lead. So it is no surprise, with just over four weeks remaining, in a race for the U.S. Senate with national implications, that the Democratic Party and the country's most liberal newspaper would come up with a fabrication of this kind.
"This garbage is the very definition of fake news and intentional defamation."
https://twitter.com/MooreSenate/status/928770918758928384
https://twitter.com/MooreSenate/status/928770957958885376
https://twitter.com/MooreSenate/status/928771005845245952
https://twitter.com/MooreSenate/status/928771064406167552
Wrote the Washington Post about the alleged incident, which took place in 1979:
Alone with Corfman, Moore chatted with her and asked for her phone number, she says. Days later, she says, he picked her up around the corner from her house in Gadsden, drove her about 30 minutes to his home in the woods, told her how pretty she was and kissed her. On a second visit, she says, he took off her shirt and pants and removed his clothes. He touched her over her bra and underpants, she says, and guided her hand to touch him over his underwear.
Three other women interviewed by the WaPo say Moore pursued them as underage teens but that it never got to the stage of sexual contact.