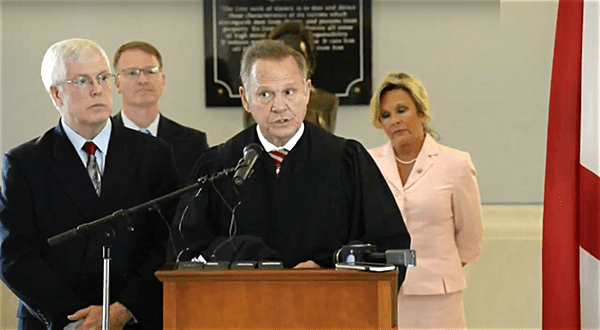 Senate candidate Roy Moore (formerly the Chief Justice of the Alabama Supreme Court who was forced to step down after defying the SCOTUS marriage ruling) allegedly had inappropriate sexual contact with a 14-year-old girl in 1979 when he was 32, according to an explosive story in the Washington Post.
Alone with Corfman, Moore chatted with her and asked for her phone number, she says. Days later, she says, he picked her up around the corner from her house in Gadsden, drove her about 30 minutes to his home in the woods, told her how pretty she was and kissed her. On a second visit, she says, he took off her shirt and pants and removed his clothes. He touched her over her bra and underpants, she says, and guided her hand to touch him over his underwear.
"I wanted it over with — I wanted out," she remembers thinking. "Please just get this over with. Whatever this is, just get it over." Corfman says she asked Moore to take her home, and he did.
Two of Corfman's childhood friends say she told them at the time that she was seeing an older man, and one says Corfman identified the man as Moore. Wells says her daughter told her about the encounter more than a decade later, as Moore was becoming more prominent as a local judge.
Three other women interviewed by the WaPo say Moore pursued them as underage teens but that it never got to the stage of sexual contact.
Moore's campaign is slamming the allegations:
"Judge Roy Moore has endured the most outlandish attacks on any candidate in the modern political arena, but this story in today's Washington Post alleging sexual impropriety takes the cake," Bill Armistead, Moore's campaign chairman, said in a statement. "National liberal organizations know their chosen candidate Doug Jones is in a death spiral, and this is their last ditch Hail Mary."
"This garbage is the very definition of fake news and intentional defamation," the statement said.
This is the then 14-year-old girl who claims that Roy Moore had sexual contact with her. Imagine how you'd feel if your young daughter (barely a teen) told you that a 32-year-old man had kissed her and touched her sexually? Well, that man is GOP Senate candidate @MooreSenate. pic.twitter.com/EVAMYNRTt2

— Jon Cooper 🇺🇸 (@joncoopertweets) November 9, 2017
Republicans are already calling for Moore to step aside.
Senate Majority Leader Mitch McConnell (R-Ky.) and Sens. Cory Gardner(R-Colo.), Lisa Murkowski (R-Alaska), John Cornyn (R-Texas), Richard Shelby (R-Ala.), Susan Collins (R-Maine), Jeff Flake (R-Ariz.), Rob Portman (R-Ohio) and David Perdue (R-Ga.) all made similar statements, saying if the claims are true then Moore doesn't belong in the Senate.
The allegations against Roy Moore are deeply disturbing and disqualifying. He should immediately step aside and allow the people of Alabama to elect a candidate they can be proud of.

— John McCain (@SenJohnMcCain) November 9, 2017