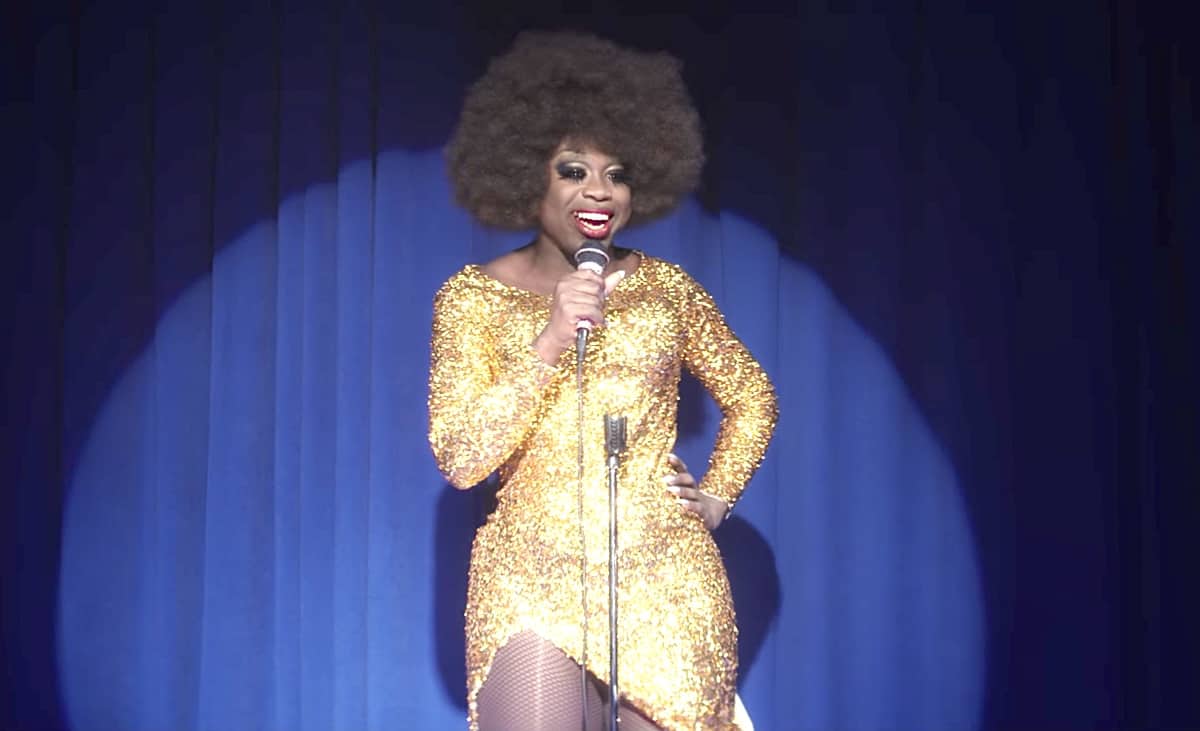 Looking for something to stream while you Netflix and chill? Check out our picks for new films streaming this month below, including Get Out, 13 Going On 30 and more.
13 Going on 30 (2004), available on Hulu Nov. 1
We're not sure if this is technically considered classic cinema, but there are few sights more joyful than seeing Jennifer Garner, Mark Ruffalo and Judy Greer doing the dance from "Thriller."
A Knight's Tale (2001), available on Amazon Nov. 1
To be clear, this is not the late Heath Ledger's greatest role, but it may be the one that solidified his standing as a heartthrob. Of course, the actor would go on to prove he was so much more than a handsome face with his work in the groundbreaking film Brokeback Mountain and his iconic take on the Joker.
Get Out (2017), available on HBO Nov. 4
If you haven't already, make time to watch one of the best films of the year. This twisted horror-comedy from comedian Jordan Peele is an effective thriller, an astute social commentary and still features laugh-out-loud moments.
Cherry Pop (2017), available on Netflix Nov. 22
Season eight RuPaul's Drag Race winner Bob the Drag Queen stars alongside Drag Race alums Detox, Latrice Royale and Tempest Dujour in this indie comedy.
All films coming to Netflix
Available Nov. 1
42
The Bittersweet
Casper
Chappie
Charlotte's Web
Field of Dreams
Men in Black
Michael Clayton
Oculus
The Pursuit of Happyness
The Reader
Scary Movie
Silent Hill
To Rome with Love
Undercover Grandpa
Where the Day Takes You
The Whole Nine Yards
Available Nov. 2
All About the Money
It's Not Yet Dark
Available Nov. 3
Eventual Salvation
Available Nov. 4
Williams
Available Nov. 5
The Homesman
The Veil
Available Nov. 6
The Dinner
Available Nov. 7
Dizzy & Bop's Big Adventure: The Great Music Caper
The Journey Is the Destination
Killing Ground
Available Nov. 10
The Killer
Mea Culpa
Available Nov. 12
Long Time Running
Available Nov. 13
Chasing Trane: The John Coltrane Documentary
Scooby-Doo 2: Monsters Unleashed
Available Nov. 14
DeRay Davis: How to Act Black
Hickok
Available Nov. 16
9
Available Nov. 17
A Christmas Prince
Jim & Andy: The Great Beyond – Featuring a Very Special, Contractually Obligated Mention of Tony Clifton
Mudbound
Red, White, Black, Blue Odyssey
Santa Claws
Available Nov. 20
Piranha
Available Nov. 21
Beat Bugs: All Together Now
Brian Regan: Nunchucks and Flamethrowers
The Case for Christ
Saving Capitalism
Available Nov. 22
The Boss Baby
Cherry Pop
Tracers
Available Nov. 23
Deep
Available Nov. 24
Bushwick
Cuba and the Cameraman
Available Nov. 27
Darkness Rising
Available Nov. 28
The Queen of Spain
Available Nov. 30
The Details
Winning
All films coming to Hulu
Available Nov. 1
13 Going on 30
25th Hour
5th Kind
The 13th Warrior
The Air up There
A View to Kill
Air Bud 2: Golden Receiver
Airplane!
Airplane II: The Sequel
Alfie
The Aristocats
Arizona Bushwhackers
Ashby
The Associate
Bad Boys
Bad Santa
Barbarella
Barbershop
Barbershop 2: Back in Business
Beowulf
Blown Away
Bound
Bram Stoker's Dracula
Brother Bear
Celtic Pride
Christmas Classics: Jingle Bells
Christmas Classics: O'Christmas Tree
Christmas Classics: Santa's Christmas Crash
Christmas Classics: Santa's Christmas Snooze
Christmas Classics: We Wish You a Merry Christmas
Christmas With the Kranks
Chuck Jones Collection: A Very Merry Cricket
Corky Romano
Cougars, Inc.
Crocodile Dundee
Crocodile Dundee II
D3: The Mighty Ducks
Dances with Wolves
Dead Hands Dig Deep
Dead Man on Campus
Delta Farce
Diamonds Are Forever
Die Another Day
Dirty Work
Double Take
Doug's First Movie
Dr. No
Ella Enchanted
Flesh + Blood
For Your Eyes Only
From Russia with Love
Goldeneye
Goldfinger
Grumpy Old Men
Grumpier Old Men
Home for the Holidays
How to Build a Time Machine
The Hunchback of Notre Dame II
Jacob's Ladder
Journey to Space
The Joy Luck Club
Jungle to Jungle
Jungle Book – Live Action
K-19: The Widowmaker
Kazaam
Kung Fu Hustle
Larger than Life
Larry the Cable Guy: Health Inspector
Legally Blondes
License to Kill
Little Man
Live and Let Die
The Living Daylights
Maid in Manhattan
Man of the House
The Man with the Golden Gun
The Marrying Man
Mean Creek
Men in Black
The Mighty Quinn
Moonlight Mile
Moonraker
The Mothman Prophecies
Mr. Holland's Opus
Never Say Never Again
Nixon
Ocean's Eleven
Octopussy
On Her Majesty's Secret Service
Open Range
Out Cold
Outside Providence
The Peacemaker
Permanent Midnight
Pinocchio
Proof
Pumpkin
Pumpkinhead II: Blood Wings
The Purple Rose of Cairo
The Quiet American
The Rescuers
Rabbit-Proof Fence
The Saint
Saved!
Scream
Shaolin Soccer
She's All That
Shopgirl
Shriek If You Know What I Did Last Friday the 13th
Six Days, Seven Nights
Split Decisions
The Spy Who Loved Me
Summer's Moon
The Swan Princess: The Mystery of the Enchanted Treasure
The Swan Princess Christmas
The Sweetest Thing
The Sword in the Stone
Teen Wolf
Terminator 2: Judgement Day
Thunderball
Tomorrow Never Dies
Treasure Planet
Unforgettable
Up in the Air
The Usual Suspects
What's the Worst that Could Happen?
Winnie the Pooh: A Very Merry Pooh Year
Winter's Bone
The World is not Enough
You Only Live Twice
Available Nov. 2
The Penguin King
Available Nov. 4
Tyler Perry's Boo! A Madea Halloween
Available Nov. 5
Hannah Montana the Movie
Life on the Line
Zero Days
Available Nov. 8
Gadgetgang in Outerspace
Much Ado About Nothing
Oddball
White Haired Witch
Available Nov. 10
Allied
Austin Found
The Song
Available Nov. 11
Citizen Jane
Obey Giant: Hulu Original Documentary
Their Finest
Available Nov. 15
Extract
Iron Sky
Parkland
Still Breathing
Available Nov. 16
Whose Streets?
Available Nov. 19
Man Down
Available Nov. 20
Whitey
Available Nov. 22
The Assassin Next Door
Stander
Available Nov. 23
Happy Christmas
Available Nov. 24
Fences
Available Nov. 30
Monkey Business
Person to Person
All films coming to HBO
Available Nov. 1
2 Fast 2 Furious
Along Came a Spider
Bachelor Party
Bird on a Wire
Bride of Chucky
Broken Lizard's Club Dread
The Day the Earth Stood Still
Fast & Furious
The Fast and the Furious
Good Morning, Vietnam
Ice Age: Dawn of the Dinosaurs
Pale Rider
The Sum of All Fears
Sweet Nov.
Terminator Salvation (Director's Cut Available)
Volunteers
W.
Zoolander
Available Nov. 4
Get Out
Available Nov. 11
War Dog: A Soldier's Best Friend
The Magical Wand Chase: A Sesame Street Special
The Lego Batman Movie
Available Nov. 13
A United Kingdom
Available Nov. 18
The Great Wall
Available Nov. 19
Mechanic: Resurrection
Available Nov. 20
Baltimore Rising
Available Nov. 25
Kong: Skull Island
Available Nov. 26
Warcraft
Available Nov. 27
Meth Storm
All films coming to Amazon
Available Nov. 1
A Knight's Tale
A View to Kill
Airplane II: The Sequel
Airplane!
Altar Egos
Bad Boys
Beauty Factory
Bram Stoker's Dracula
Chasing the Star
Crocodile Dundee
Crocodile Dundee II
Dances With Wolves
Diamonds Are Forever
Die Another Day
Dirty Work
Dr. No
For Your Eyes Only
From Russia With Love
GoldenEye
Goldfinger
Kiss Kiss Bang Bang
Legally Blondes
License to Kill
Live and Let Die
Moonraker
Never Say Never Again
Nowhere to Run
No Way to Live
Octopussy
On Her Majesty's Secret Service
Redeemer
Speed Racer
St. Elmo's Fire
The Beautiful Ones
The Cell
The Departed
The Little Tin Man
The Living Daylights
The Man With the Golden Gun
The Peacemaker
The Pursuit of Happyness
The Spy Who Loved Me
The World Is Not Enough
Thunderball
Tomorrow Never Dies
Unforgettable
Up in the Air
You Only Live Twice
Available Nov. 3
The Only Living Boy in New York
Available Nov. 4
Tyler Perry's Boo! A Madea Halloween
Available Nov. 5
Life on the Line
The Lovers
Available Nov. 6
Among Us
Pearly Gates
Available Nov. 7
Fifty Shades of Black
Available Nov. 9
Armed Response
Available Nov. 10
Allied
Available Nov. 13
Baby Steps
Broken Mile
Orion
The Patent Scam
Available Nov. 16
Shot Caller
Available Nov. 17
Landline
Available Nov. 19
Man Down
Available Nov. 20
Before the Sun Explodes
Blood Ransom
Available Nov. 24
Fences
The Big Sick